2 BEAUTIFUL BLONDE SUPER HEROINES ARE CHLOROFORMED
& FONDLED!
STARIA IS KIDNAPPED, BOUND, GAGGED & HEAVILY FONDLED AS SHE PROTESTS IN VAIN!
WHEN THE FINAL BATTLE BEGINS WILL THE SUPER DAMSEL PREVAIL?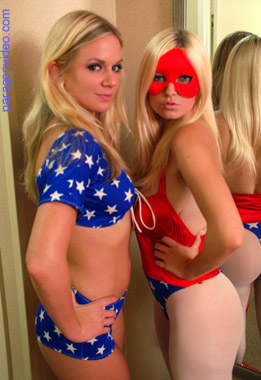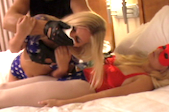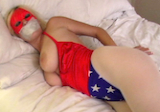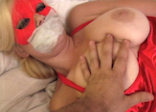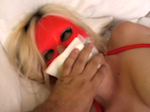 15 min. $12.99
(Windows Media) WMV file

A newly regenerated Star Girl helps her new sidekick Staria put together her costume. (Both super beauties are gorgeous blondes with great bodies and awesome super heroine attitudes) Star Girl compliments her sidekick on her costume and leaves to get some boots for Staria. While she's gone Staria admires herself in the mirror and smiles charmingly. Behind her a thug sneaks into her dressing room and creeps up behind her with chloroform cloth in hand! Staria is taken completely by suprise as the chloroform pad is clamped over her beautiful face and her all-natural boobs are clenched by a hungry hand!
Staria gives it her best in the desperate battle but she's inexperienced and the thug is well-skilled in the art of super heroine abduction! Staria "MMMPH"s admirably as she's slowly drugged and heavily fondled by the smiling fiend! After an intense struggle Staria eventually passes out with some beautiful eye rolling and sexy moaning! Then the knocked out super beauty is carried over-the-shoulder (her buttcheeks smacked and groped) to a spot across the room where the thug can fondle her in peace! Star Girl eventually returns but can't find Staria anywhere.
(The camera then pans over to show Staria being fondled by the thug who holds her out of view, the chloroform pad pressed over her mouth and her lovely eyes rolling sleepily)! When Star Girl leaves the room to look for her missing sidekick the thug carries Staria over-the-shoulder across the room to her bed and lays her there for Star Girl to find (the thug gives Staria another dose of chloroform to keep her out for the coming battle)!
Star Girl returns and gasps when she sees Staria knocked out on her bed. She tries to wake her drugged partner but it's no use, and the distraction has allowed the thug to creep up behind her undetected! Star Girl is caught completely off-guard when the chloroform pad clamps over her face and the thug's hand latches onto her star-spangled boobs! The thug gleefully teases the struggling super heroine as he slowly chloroforms her to sleep!
Star Girl struggles well but the chloroform is one of her weaknesses and it soon saps her super strength! Eventually she is a sleepily moaning eye-rolling puppet in the man's arms! He lays the super damsel across the lap of the still unconscious Staria (this is a very cute shot showing the beautiful ass of Star Girl as she is draped over the sleeping body of Staria). Staria is bound on-screen with medical tape and wakes to find that Star Girl has been kidnapped! Realizing that she is now on her own Staria decides to talk tough! As her hands are being bound with tape she says some great super lines of campy dialog before getting handgagged by the thug! He teases her with a wad of cloth then stuffs it in her defiant mouth!
Staria suffers the indignity of being gagged by several strips of medical tape and begins to show signs of folding under the pressure! Staria is absolutely beautiful in bondage! Her struggles and "MMMPH"s are very cute and sexy! She always seems to teeter on the edge of defiance and whimpering dismay! The super sidekick reacts beautifully as her big all-natural boobs are pulled from her costume and heavily groped! (some nice 'point-of-view' groping here) She is teased and tormented while she struggles. Eventually the thug returns and chloroforms her back to sleep!
When the thug returns he finds that Staria has escaped! He suddenly turns to find the super heroine standing behind him and a battle takes place!
WHO WILL BE THE VICTOR?!?