GORGEOUS BUXOM BLONDE SUPERHEROINE STARIA (IN HER AMAZON INCARNATION) BATTLES WHITE SLAVER THUGS BUT HER
OVERCONFIDENCE GETS HER CHLOROFORMED, BOUND, GAGGED & FONDLED!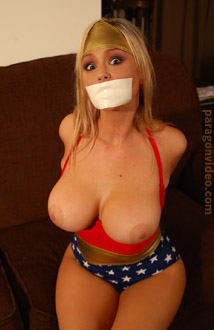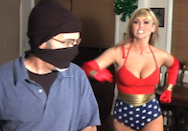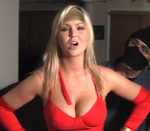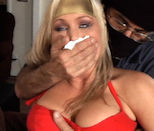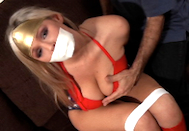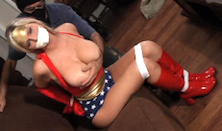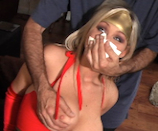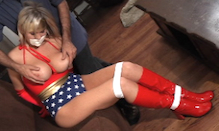 10 min. $9.99
(Windows Media) WMV file 142mb
A white slaver is talking to his boss on the phone about chloroforming and kidnapping Staria! He tells him that she has been spotted in the area on their security cameras and will be chloroformed soon but suddenly Staria bursts into the room and a battle begins! Power punches fly and when it's over Staria stands over a defeated slaver triumphant and full of confidence! Another slaver distracts her from delivering a finishing blow to his partner and challenges the super beauty! Staria turns to him and accepts his challenge telling him "I'm gonna knock you out too!" Unfortunately for the inspired super heroine the other slaver quickly recovers and jumps her from behind! He covers her gorgeous face with his chloroform cloth and holds her tightly as his partner gropes her big boobs! Staria slowly passes out in a beautiful display of muffled protesting and sleepy rolling eyes! She's then carried "over the shoulder" to a room where she is tightly bound with white tape!
When she wakes up Staria is very groggy but she still tries to protest! She is then handgagged and told that her mouth must now be taped! The super herione beauty is gagged with microfoam tape and her boobs are heavily fondled! She "MMMMMPH"s beautifully and squirms with sexy passion, her lovely charming eyes reacting wonderfully to the teasing and torment she recieves from the slavers! Her naked boobs are exposed and she increases her muffled moaning as the helplessness of her situation sets in! What will become of the gorgeous super heroine captive?!?

WILL SHE ESCAPE AS THE CHLOROFORM CLOTH DESCENDS ONCE AGAIN?!?
Copyright © 2010 gaggedgirls.tv
All rights reserved.