KINZIE KENNER IS CHLOROFORMED & FONDLED REPEATEDLY ALONG WITH HER CUTE ROOMMATE SHERRY IN THIS SUPER HOT EPIC CHLORO VIDEO!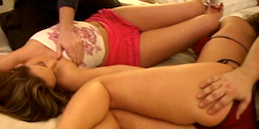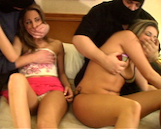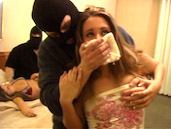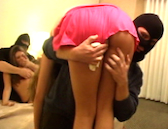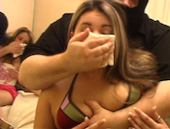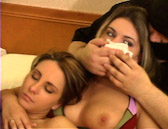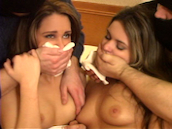 19 min. 45 sec. $14.99
(Windows Media) WMV file - 405mb

THIS HIGHLY REQUESTED SCENE IS A PARAGON CHLOROFORM / HANDGAG VIDEO CLASSIC!
Kinzie and Sherry are two roomates who are getting ready for a beach party when they are suddenly attacked by cruel white slavers! Kinzie is looking cute in her pink skirt and top and brushes her hair while talking to her friend Sherry who is in the next room trying on her bikini in front of the mirror.
A masked man sneaks up behind Kinzie and suddenly chloroforms her while Sherry can still be heard in the background talking to her (the camera does NOT cut away from Kinzie while she's being chloroformed). Kinzie's muffled protests aren't heard by Sherry as the gorgeous brunette is heavily groped and slowly chloroformed to sleep. Sherry continues talking to Kinzie even as Kinzie is left unconscious on the bed, while the man hides. Sherry soon realizes that Kinzie isn't responding so she goes into the bedroom to check on her and finds the brunette beauty sleeping quietly. She tries to wake her up but another masked man comes up behind Sherry and chloroforms her too!
Sherry's breasts are fondled as she's chloroformed to sleep. The man throws her over his shoulder and carries her over to the bed where he starts to play with his beautiful captive's hepless body. His partner comes out of his hiding place and goes after Kinzie. The two gorgeous girls are repeatedly chloroformed and fondled as they try desperately to escape (nice bare 'foot fondling' scene too). Sometimes they are kept in half-conscious states as the cruel men handgag them while fondling their boobs and asses and force them to fondle themselves and each other while they are groggy. The cute damsels are forced to watch each other being chloroformed in this VERY HOT scene and are slowly stripped naked until both of them end up chloroformed together!
THIS VIDEO FEAUTURES PREMIUM PARAGON CHLORO ACTION WITH LOTS OF SEXY FONDLING, GROGGY GIRLS MUMBLING HELPLESSLY AS THEY ARE RELENTLESSLY HANDGAGGED CHLOROFORMED & GROPED!
Copyright © 2010 gaggedgirls.tv
All rights reserved.