2 BEAUTIFUL SUPER HEROINES ARE KNOCKED OUT, KIDNAPPED,
GAGGED & FONDLED BY EVIL THUGS!
INTENSE FONDLING ENSUES!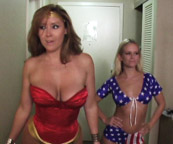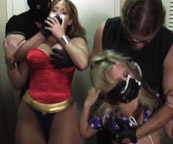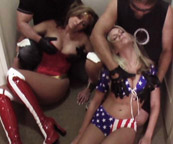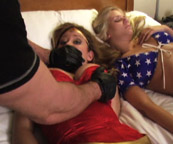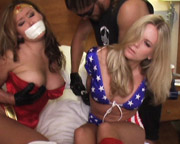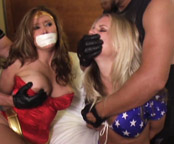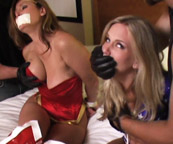 Part 1 of 2
VIDEO DOWNLOAD
8 min. $8.99
(Windows Media)
Amerigana & her sidekick Power Girl enter the hideout of a group of white slavers and demand that the kidnappers surrender! Unfortunately for the costumed beauties they fall into a trap and are knocked out by the thugs who clamp white cloths over their faces and fondle them until they pass out in a flurry of desperate "MMMMMPH"s!
Amerigana and Power Girl are laid out on a bed where the thugs tape them up with medical tape and fondle their unconscious bodies! Amerigana wakes up but gets handgagged and boob fondled before white tape is pressed over her mouth gagging her! She struggles and protests as the thugs have fun with her body and soon Power Girl wakes up to recieve a tight handgag as she also become a dominated super heroine in trouble!
What will be the fate of the super heroine damsels?
Find out in PART 2
Copyright © 2009 gaggedgirls.tv
All rights reserved.