SPY GIRL SAMANTHA & AGENT BLUE ARE GAGGED CAPTIVES OF
A CRUEL MALE AGENT WHO DISCIPLINES THEM FOR THEIR INSOLENCE
WITH HIS OWN KINKY METHODS!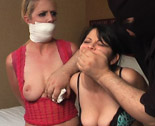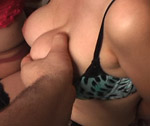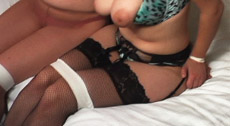 11 min. $10.99
(Windows Media) WMV file - 140 mb

Sexy Latina spy girls Samantha (in fishnet stockings) & Agent Blue (in pantyhose) have been bound with tape after Samantha was discovered to have sexual relations with a rogue spy girl she was supposed to capture! Agent Blue sits next to her, heavily gagged with a fat wad of pantyhose, microfoam tape and gag-wrap! Samantha argues with the male agent who bound her and says that he is just trying to take the girl in and steal the credit for bringing her back but the man gets tired of listening to her and handgags her! He reveals his kinky side by grabbing the boobs of the helpless girls as they struggle and protest! Samantha's mouth is then stuffed with a wad of cloth and sealed with microfoam tape! The girls struggle in vain to escape and gag-talk to each other in a feeble attempt to communicate! Eventually Samantha endures a tight gag-wrap that quiets her down a little, but her fiery protests continue as the man fondles his helpless captives' exposed boobs! As he gropes Samantha's plump boobs he tells her that he must follow protocol and will now listen to their confessions! He tells them that if he is unable to understand their confessions they will be charged accordingly for not givng a statement!
This brings a new level of "MMMMMPH"ing from the gagged agents who vehemently protest to no avail!
Copyright © 2009 gaggedgirls.tv
All rights reserved.