CHRISTINA CARTER CHLOROFORMED AND HELD CAPTIVE IN HER OWN HOME,
RELENTLESSLY FONDLED AND DRUGGED!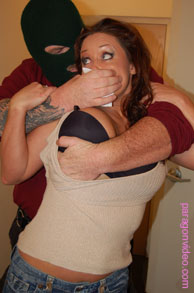 Sultry brunette fan fave Christina Carter (in tight jeans) comes home to find a strange man in her apartment! She asks him what he's doing there and the man tries to talk his way out of it. When Christina becomes agressive she is suddenly chloroformed from behind by another man who gropes her big boobs as she "MMMMMMPH"s in dismay. Eventually she is overcome by the chloro fumes and passes out in his arms. She is then carried to her bed where her chloroform nightmare begins!
Christina is trapped in her own home, the helpless drugged prisoner of perverts who fondle her and record her struggles on video! She is teased with comments about her being so sleepy as she's repeatedly chloroformed and fondled! Her pathetic escape attempts only amuse the men who easily dominate her with The Cloth and keep her as their captive plaything!
WHAT WILL BE THE FATE OF CHRISTINA CARTER?
11 min. $9.99
(Windows Media) WMV file - 176 mb


Copyright © 2009 gaggedgirls.tv
All rights reserved.