ALL-NATURAL BUXOM BEAUTY JASMINE IS AN UNDERCOVER GIRL DETECTIVE - NAKED, BOUND & CLEAVE GAGGED! THE BRUNETTE 'GIRL NEXT DOOR' IS FONDLED AS SHE STRUGGLES & PROTESTS IN BONDAGE IN THIS VERY HOT SCENE!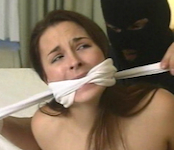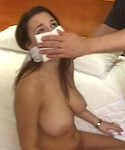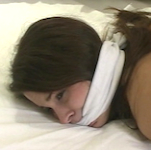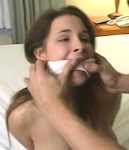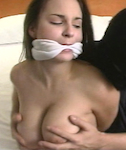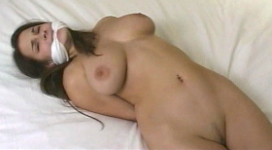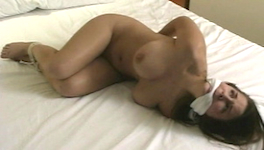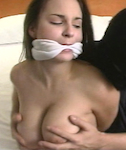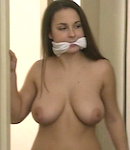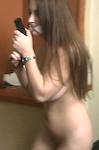 Naked captive girl detective Jasmine's white slavery dilema continues from the chloroform torment she endured in an earlier VIDEO. She wakes up from her drugged nap to find a strip of cloth being tied around her mouth! Jasmine "MMMMMPH"s as she is cleave gagged and her all-natural boobs are groped by the white slaver who captured her! She is not bound yet but is still slightly drugged so she can't offer much resistance. Just to make sure she remains compliant the white slaver covers her gagged face with his chloroform cloth for a short while to keep her sleepy while he ties her up! Jasmine's wrists and ankles are bound while she's sleepy but she still manages some feeble "mmmmm"s of defiance. When he's finished the white slaver enjoys his bound and cleave gagged captive detective girl's lovely body by fondling her plump boobs! Jasmine protests and squirms in his grasp, "MMMMMPH"ing beautifully! After a while he leaves her to struggle naked on the bed while he goes into the other room to negotiate her selling price on the sex slavery market!
Jasmine is a strong-willed girl detective who decides she's going to fight for her freedom! She struggles valiantly on the bed rolling all over and protesting with frustration through her cleave gag. The masked white slaver returns to check on her and fondle her some more but when he leaves again Jasmine unties herself and retrieves her trusty gun that was taken from her! She then confronts the white slaver (still cleave gagged)!
WHAT WILL BE THE OUTCOME OF THE GIRL DETECTIVE'S BONDAGE DILEMA?
9 min. $8.99
(Windows Media) WMV file - 119 mb

Copyright © 2009 gaggedgirls.tv
All rights reserved.