LONDON ANDREWS IS IN BIG TROUBLE! MOUTH STUFFED, GAGGED WITH MICROFOAM TAPE THE MASSIVE BOOBED BBW IS HEAVILY FONDLED!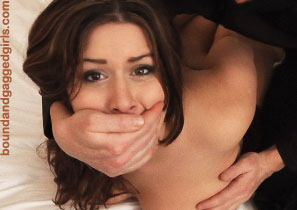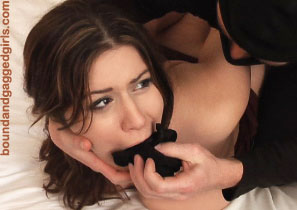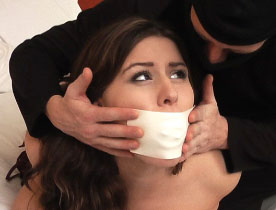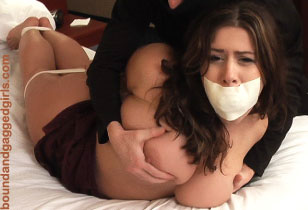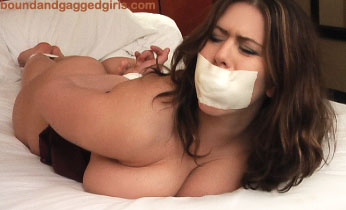 PART 1
London Andrews is a very charming very voluptuous all-natural 'girl next door' who impressed us with her great attitude, excellent gagged protesting and sexy 'gag talk'! She's a real struggler and is sure to please those who are looking for a very curvy model bound & tightly gagged! In this, her 2-part Paragon debut, we made sure to put pretty London's mouth under constant seige!
London wakes from her drugged slumber to find that she's been bound with tape! As she tries to ask her masked captor what he's doing to her the man quickly clamps his hand over her mouth! London "MMMMMPH"s in protest as she notices the man's partner recording her with a camcorder! London unleashes a flurry of gag-talk at the camera as the man who's handgagging her fondles her all-natural gigantic boobs!
The men tell London that it's useless to resist and that she's going to have to be gagged! London tries to talk them out of it but it's no use! A pair of her dirty panties is then shown right in front of her handgagged face (as her eyes go wide and she obviously doesn't approve) before being wadded up and crammed into her protesting mouth! Poor sweet London pouts at the camera as a strip of microfoam tape is plastered over her mummbling mouth and lovingly pressed on tight!
London goes into a struggling fit and is teased about being gagged! Her titanic tits are roughly groped and manhandled by both men (some groping shots are point-of-view) and London rolls all over the bed trying desperately to free herself!
At one point the cameraman begins groping her pretty feet and even tickles them as London "MMMMMPH"s intensely trying to fight off his tormenting fingers! London is also spanked and her ass cheeks are groped as she tries to yell demands at her captors!
DON'T MISS PART 2
8 min. $8.99
(Windows Media) WMV file - 125 mb

PART 1 of 2
Copyright © 2009 gaggedgirls.tv
All rights reserved.