DETECTIVE GIRLS LINDA & KATIE ARE AMBUSHED, KNOCKED OUT, CAPTURED & GAGGED BY PERVERSE WHITE SLAVERS IN THIS HOT & KINKY SCENE FILLED WITH EXCELLENT GAGGED PROTESTING!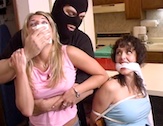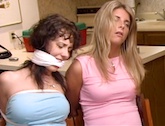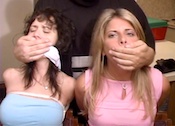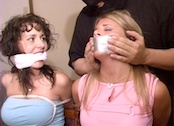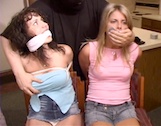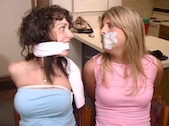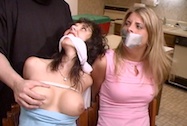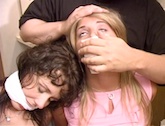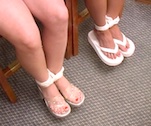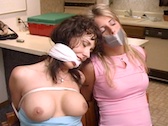 20 min.
$14.99
MP4 - 335 mb

Detective girls Linda (brunette) and Katie are hot on the trail of a perverted group of white slavers / sexual slavery thugs who have been kidnapping beautiful girls and drugging them while recording their kinky exploits to taunt the beautiful detectives.
Linda has finally discovered their current hideout so she goes in to bust them with Katie driving over to back her up. The sexy brunette girl detective heads in with her trusty gun drawn ready for action! Unfortunately for her and her partner the slavers are expecting them and are prepared to make them the newest additions to theirgrowing collection of beautiful gagged slaves!
Linda is suddenly attacked from behind by a perverse fiend with a sleepy cloth! The kinky masked man smothers her pretty face with the cloth while he gropes her sweet boobs! The disarmed girl detective struggles and "MMMMMPH"s beautifully as she's slowly knocked unconscious with the sleepy cloth! The man's partner shoots POV video of the scene to add the capture of the sleepy sleuth to their recorded conquests! Finally Linda the feisty girl detective is dominated and she gives in to the overwhelming urge to sleep amid rolling eyes and muffled sighs!

The unconscious beauty is then thrown over the man's shoulder and carried (OTS carrying / 'over the shoulder' carrying) away.
Linda eventually wakes up tied to a chair but is swiftly handgagged & groped by the masked thug! The lovely detective "MMMMMPH"s beautifully and is cleave gagged with a thick strip of cloth! The thug leaves to prepare for Katie's arrival and Linda struggles in bondage in a desperate attempt to free herself before her partner meets the same fate!
Blonde detective girl Katie arrives on the scene with gun drawn and sneaks into the apartment! When she sees Linda gagged & mumbling the anxious sleuth gasps and says "Linda! They have you bound and gagged!" Katie quickly moves to untie her partner heedless of the danger awaiting her, but she can't hear Linda's muffled words of warning and the masked fiend slowly creeps out of a closet to stalk his prey with cloth in hand!
Poor Katie is suddenly smothered with the sleepy cloth from behind as the slaver latches onto her! A flurry of muffled "MMMMMMPH" sounds fills the air of the apartment as Katie and Linda protest their dire situations! Linda is horrified to see her only chance at escape being slowly put to sleep right next to her!
Katie slowly passes out with rolling eyes and is carried away (OTS carrying / 'over the shoulder' carrying) as Linda "MMMMMPH"s in gagged dismay! Soon the thug returns to smother Linda with the sleepy cloth as punishment for trying to warn her partner!
Later both girls sit tied to chairs and are unconscious. They slowly wake up. Linda is still cleave gagged but Katie isn't gagged. The blonde detective girl is very groggy. Linda tries to get her to wake up and cry for help but before she can say anything Katie is handgagged by the thug!
Lots of gagged protesting begins again and the man soon tapes up Katie's big mouth with several strips of duct tape! He delights in telling the gagged girl detectives of his plans while they squirm and protest beautifully.
He leaves them for a while and they struggle to get free ...but they aren't going anywhere!
As the sleepy cloth descends again on their pretty faces the girl detectives realize that this is the last case they will ever be investigating!
WHAT WILL BE THE FATE OF THE GAGGED GIRL DETECTIVES?