BLONDE GIRL DETECTIVE LORI IS ABDUCTED AND SUBJECTED TO A SLEEPY FETISH NIGHTMARE OF
TAINTED CLOTH (& SLEEPING GAS 4x)!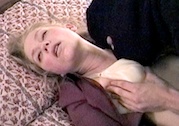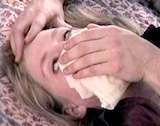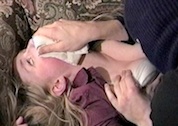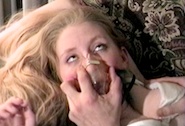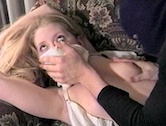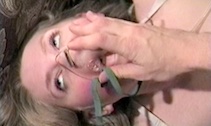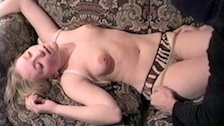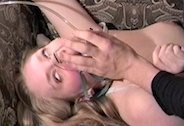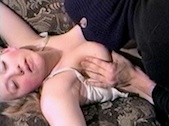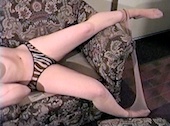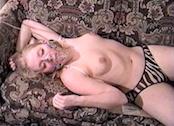 22 min.
$14.99
MP4 - 350 mb
THIS IS AN OLDER SCENE FROM OUR EARLY DAYS THAT FANS HAVE BEEN ASKING FOR.
(the video quality is from SVHS and is not as sharp as our more recent productions)

Lori is a tough lady detective out to catch a chloroforming kidnapper who is abducting beautiful blondes and selling them over the internet (to high paying customers who make the girls their drugged slaves). The blonde bombshell talks on the phone with her boss about his methods and decides to bring the fiend to justice by herself. She tracks the kidnapper to his home and sneaks inside with gun in hand. She looks in every room for the suspect, but when she realizes that he's gone she also finds a bottle of chloroform with a note on it.

Lori reads the note aloud (including graphic depictions about chloroforming her and the other blondes) but realizes too late that the kidnapper is standing behind her! Lori suddenly finds herself in the kidnapper's grip with a chloroform soaked cloth over her face and his hungry hands tightly groping her boobs. Lori gives him a good fight and "Mmmmph"s heavily but the drugged fumes slowly sap her strength and she eventually passes out in the kidnapper's arms.

The fiend craddle-carries the 'sleeping beauty' into his bedroom and throws her on the bed. Detective Summers is helpless to defend herself as the kidnapper heavily fondles her body and repeatedly chloroforms her every time she tries to wake up. Sometimes he delights in keeping her half-conscious and teases her about being drugged. He even lets her try to escape only to catch her and hand-gags her when she tries to run out the door. He gropes her helpless body while she's groggy and hand-gagged and chastises her for trying to get away.

When he's tired of struggling with her the kidnapper dramatically chloroforms her again and carries her over-the-shoulder to the sofa where he procedes to strip her down to panties and gives her whole body a good fondling, licking and sucking her breasts. Every time Lori tries to wake up she's knocked out with chloroform and several times the kidnapper uses an oxygen mask which pumps her full of sleeping gas to keep her groggy. He finally straps the mask over her face and leaves her to sleep for a while.

THIS IS A VERY HOT & KINKY SLEEPY VIDEO FEATURING EXCELLENT EYE ROLLING PASSOUTS!
THE GIRL DETECTIVE IS KNOCKED OUT SEVERAL TIMES WITH THE CLOTH
AND 4 TIMES WITH THE SLEEPING GAS!
Copyright © 2013 gaggedgirls.tv
All rights reserved.