BUXOM ALL-NATURAL BRUNETTE JASMINE IS A 'GIRL NEXT DOOR' SMOTHERED REPEATEDLY WITH A SLEEPY CLOTH, HANDGAGGED & FONDLED IN THIS SUPER HOT SCENE!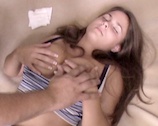 13 min. 50 sec
$10.99
MP4 - 228 mb

Jasmine is a cute 'girl-next-door' coming home after work. She walks into her living room all perky and sweet (in her blue skirt, blue-striped top) when she's suddenly grabbed from behind by a ski-masked man and a sleepy cloth covers her cute face!
Jasmine "MMMMMPH"s beautifully as she's slowly put to sleep and her luscious boobs are fondled as she passes out in the arms of her hungry captor. The man throws her over his shoulder, flips up her skirt exposing her panty-clad buttcheeks and smacks her buns as he carries her around the house. Jasmine is layed on a sofa unconscious and vulnerable to the man's roving hands as he plays with her sleeping body.
Jasmine awakens and is again subjected to cat-and-mouse sleepy stalking games as the man teases his helpless victim and smothers her into a groggy state every time she becomes too conscious. Sometimes the buxom babe is knocked out completely.
WHAT WILL BE THE FATE OF THE SLEEPY 'GIRL NEXT DOOR'?

JASMINE'S SLEEPY TALENTS ARE ON FULL DISPLAYIN THIS HOT SCENE WITH LOVELY ROLLING EYES
AND SLEEPY MUFFLED SIGHS!
Copyright © 2013 gaggedgirls.tv
All rights reserved.