SUPERHEROINE STAR GIRL IS KIDNAPPED BY A CRUEL FIEND WHO SUBJECTS HER TO BONDAGE & HIS BIZARRE FETISH EXPERIMENT!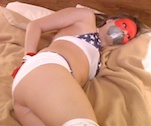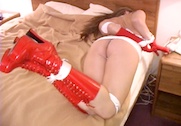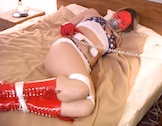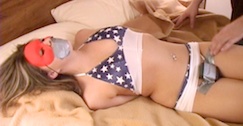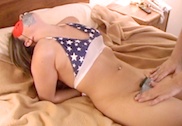 12 min. 35 sec
$9.99
MP4 - 217 mb

Star Girl has an important conversation on the phone with the commissioner about a recent epidemic of super heroine kidnappings by the sinister Dr. O. She talks about his methods of binding and gagging the superheroines and agrees to stay in hiding while the cops try to catch the criminal. Unfortunately for Star Girl a leak in the deaprtment has allowed Dr. O to learn where Star Girl is hiding and the super beauty soon finds herself smothered to sleep by a strange cloth! Star girl's valiant struggling and "MMMMMPH"ing can't save her from the power of The Cloth! The costumed cutie is fondled by the perverse villain who ties her up on her bed and places an orgasmic generator between her legs!
Star Girl struggles and "MMMMMPH"s in forced ecstacy as she tries in vain to dislodge the orgasmic device before it can dominate her! Eventually Star Girl breaks free of her bonds in time to prevent the dreaded 'cataclysmic orgasm'! She then brings down her wrath on the perverse Dr. O!

SHERRY IS A VERY SEXY STRUGGLER AND PROTESTER!
Copyright © 2013 gaggedgirls.tv
All rights reserved.