CHRISTINA CARTER IS A FEISTY SUPERHEROINE KIDNAPPED, KNOCKED OUT, BALLGAGGED & GROPED!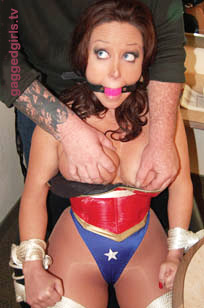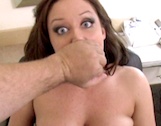 18 min. 40 sec
$14.99
MP4 - 297 mb
(From a mid-2000s shoot)
Amerigana is on the phone with comic book writer telling him that her artwork is safe and that her new comic should be shipping right on schedule. She talks about the thugs whole stole her artwork and says that she wants to put them behind bars. Little does the super siren know that the thugs are sneaking up behind her as she speaks! One of them suddenly grabs Americana while the other one videotapes the attack! The thug clamps a sleepy cloth over Amerigana's gasping mouth and heavily gropes her titanic tits as she struggles to get up from the chair! Amerigana uses her special abilities to break free of the thug but he is a formidable villain and quickly grabs her again before she can get away! He finally succeeds in smothering the squirming, protesting super beauty to sleep, then throws her over his shoulder (OTS carrying / over the shoulder carrying).
Amerigana is then bound with ropes to a chair and wakes up to the taunting voice of the thugs. She argues with them for a while until they get tired of her defiant threats and tightly ballgag her! Amerigana is punished and groped as the bad guys torment her and tease her! She is eventually stripped of her top and her bare boobs are heavily squeezed! (This is a really HOT ballgag scene, with Amerigana desperately trying to form words of defiance and looking directly at the camera!) Amerigana fumes with anger and whines to be freed but the thugs are merciless and watch her as she struggles helplessly bound and ballgagged! Eventually they decide to knock her out again. Amerigana is forced to breath the sleep-inducing fumes again!
THIS SCENE IS FILLED WITH GREAT GAGGED PROTESTING / GAG-TALK & HOT PASSOUTS
FROM THE AMAZINGLY TALENTED CHRISTINA!
Copyright © 2013 gaggedgirls.tv
All rights reserved.