EXOTIC FRENCH MAID EVA IS BOUND AND GAGGED WITH TAPE, FONDLED & FINALLY CHLOROFORMED!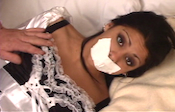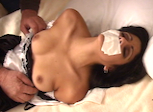 12 min. $9.99
(Windows Media) WMV file 185mb

Eva is a cute French Maid who has been kinapped! The gorgeous black-haired damsel is bound in white duct tape and wakes to find a big man menacing her small frame! The man wastes no time playing with the helpless damsel as his partner video tapes the scene! Eva tries to cry out but is tightly handgagged and teased about being kidnapped as the man plays with her perky boobs!
The men make kinky comments about poor Eva's predicament and her helpless gagged reactions are great! See the man's point of view as he shoots Eva pleading with the camera through her tape gag! They let Eva struggle and try to free herself but the gorgeous little minx is too tightly wrapped to get away! After a valiant struggle Eva is chloroformed to sleep as the camera records it all!
Copyright © 2010 gaggedgirls.tv
All rights reserved.