ALL-NATURAL CURVY BUXOM BEAUTY JJ PLUSH
IS IN DIRE BONDAGE PERIL!










12 min. 49 sec. $9.99
(Windows Media) WMV file - 265 mb

Amazing ALL-NATURAL buxom curvy damsel JJ Plush makes her STUNNING Paragon debut in this SUPER HOT 'damsel in distress' bondage scene! This lovely lady is simply stunning as her real life passion for being bound and HEAVILY gagged is apparent throughout the entire video!
JJ has been kidnapped! The curvy minx is under wraps, struggling in tight duct tape bondage in her shiny blouse, short skirt, pantyhose and high heels. She is being recorded on video by a kinky fiend for prospective buyers on the white slavery market! JJ tries to protest her bondage but a tight handgag muffles her and her big boobies are groped hungrily by another sex slaver! JJ "MMMMMPH"s in distress beautifully as she is groped and told of their plans for her! JJ's 'gag-talk' and muffled protests are superb as her big mouth is stuffed to the limit with a huge wad of cloth and her beautiful face is plastered with several strips of heavy duty duct tape! The rough groping of her plump boobies continues with more handgagging over her tape gagged mouth.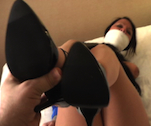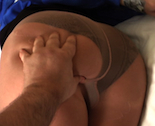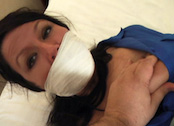 JJ increases her sexy struggling and "MMMMMPH"ing with her boobies bouncing and shaking to break free from her top! Next she is told that she must be endure even more gagging! JJ tries in vain to gag-talk her way out of the excessive muffling of her already heavily taped & stuffed mouth but it's no use! She is at the mercy of gag loving slavers and her will must be broken as soon as possible so that she will be compliant for her new owner! JJ's face is wrapped tightly with gag wrap and her muffled pleas become quiter (yet still plentiful) when the job is done!
Poor JJ is fondled, spanked, her high heels are removed and her pantyhose feet are groped as she protests in vain! She struggles on the bed for a while and even tries to escape by hopping toward the door but she is intercepted by the thug and groped again for her insolence! Finally JJ is ready to be transported out of the room so she is chloroformed in a wonderful display of her excellent 'sleepy' talent!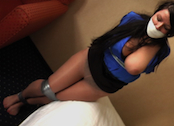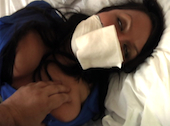 WHAT WILL BECOME OF THE KIDNAPPED BUXOM BEAUTY?!?
MORE HOT JJ VIDEOS ARE COMING SOON!
Copyright © 2011 gaggedgirls.tv
All rights reserved.