SUPER HEROINE WONDER IS CHLOROFORMED AND CAPTURED BY SEX SLAVERS!
SHE ENDURES BONDAGE & HEAVY FONDLING AS SHE'S TAUNTED BY THE THUGS!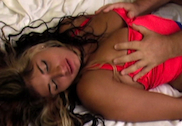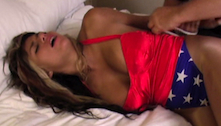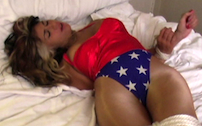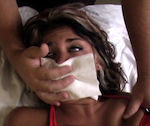 14 min. 19 sec. $10.99
(Windows Media) WMV file - 293 mb

Wonder searches for her kidnapped superheroine sisters and tracks the white slavers who are trafficking in abducted super heroines! Wonder enters their underground complex. As she sneaks around looking for her fallen sisters Wonder is suddenly attacked from behind and chloroformed by a sisnister thug who grabs her big boobs! The star spangled heroine "MMMPH"s and tries to break free but eventually loses the battle and slowly passes out in the thug's arms. He carries his super captive 'over the shoulder' to a waiting bed and has fun fondling her unconscious body! He then binds his costumed captive's lovely body with ropes (on-screen) and when she wakes up she tries to be defiant and demanding but is handgagged, teased and then cleave gagged! Wonder struggles as she's groped by two of the thugs (some nice 'point-of-view' groping here) and hops around trying to get away! Will she escape or will the chloroform cloth descend once again and force her to join her super sisters in drugged captivity?!?
WONDER STRUGGLES AND 'MMMMPH's BEAUTIFULLY THROUGHOUT THIS SUPER HOT SCENE
& HER 2 CHLORO PASSOUTS ARE VERY SEXY!
Copyright © 2011 gaggedgirls.tv
All rights reserved.