GIRL DETECTIVE IS TRICKED & KNOCKED OUT BY A CRUEL FEMALE WHITE SLAVER (2x)
WHO CAPTURES HER, BINDS, GAGS & TORMENTS HER!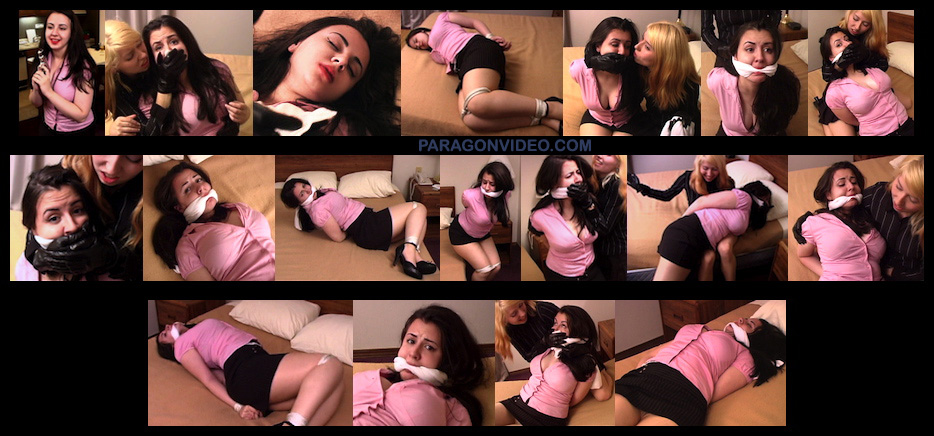 13 min. $9.99
(Windows Media) WMV file

Detective girls all over the state have been drugged & kidnapped as they try to infiltrate a white slavery / sex slavery ring so beautiful feisty fearless detective Tasha decides to pick up the case! The spunky cute & buxom girl goes looking for her fallen sisters with her trusty gun in hand! Following up on a lead she enters the slavers' new secret hideout (wearing pantyhose & black high heels) glad that she has finally found them. Tasha is so confident that she finally has her suspects that she mocks them aloud and calls on them to surrender! Suddenly the feisty girl detective encounters a blonde girl trying to leave the building! Tasha keeps her gun on the girl and tells her she's busted! The girl then pleads with Tasha to let her escape from the slavers!
Tasha falls for her act and tells the girl to show her where the other girls are being held prisoner. The girl begins to show her but Tasha lets down her guard and is suddenly attacked by the deceptive girl who clamps a pad of wet smelly liquid over her mouth with her black leather gloves! Tasha is quickly disarmed and slowly put to sleep as she "MMMMMPH"s intensely! The perky girl detective finally passes out and is then bound and tormented by the blonde female slaver who delights in repeatedly hangagging her protesting captive and making comments about keeping her quiet. Tasha's protests are PERFECT with LOTS of sexy "MMMMMPH"ing and gag-talk! Her wide-eyed look of shock is fantastic!
The femme slaver then tightly cleave-gags the big-mouth girl detective with a wide strip of cloth and leaves her to struggle! Tasha squirms around all over the bed and 'MMMMMPH's heavily in a feeble attempt to escape her bonds! She gets up and hops around the room looking to escape only to be discovered by the blonde slaver girl and punished! The slaver girl puts the helpless detective over her knee and gives her a hard spanking! Tasha 'MMMPH's intensely as she's spanked and the slaver girl keeps her leather gloved hand over her gagged mouth to stifle her screams. She then leaves Tasha to struggle some more while and Tasha continues her vain attempts to get free. Eventually the femme slaver returns! She sits Tasha up on the bed and tells her that she'll be selling her on the black market! Tasha protests intensely when she sees the sleepy cloth but it's no use! Her drugging is inevitable! Tasha smothers the helpless bimbo detective girl to sleep once again with her wet cloth and arranges for her to be shipped out!
WHAT WILL BE THE FATE OF THE GAGGED GIRL DETECTIVE?
NOTE: There is no nudity or fondling in this scene.
Copyright © 2012 gaggedgirls.tv
All rights reserved.