ALL-NATURAL BUXOM BRUNETTE CUTIE JASMINE - CAPTURED UNDERCOVER
BIKINI MODEL KNOCKED OUT 2x, GAGGED, BOUND & GROPED!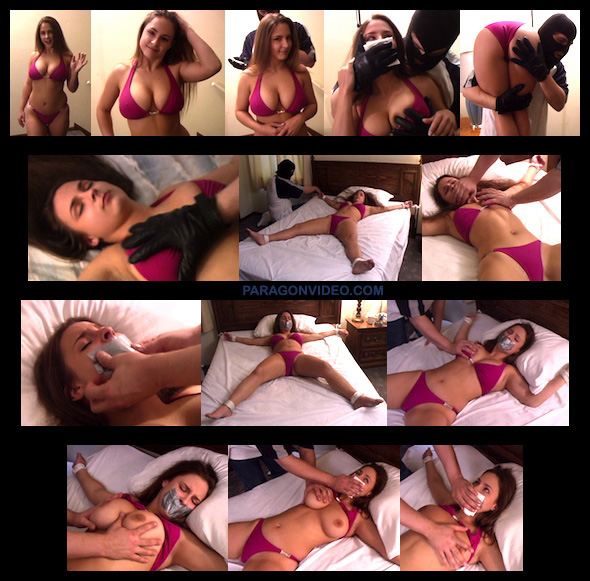 Jasmine is an undercover girl detective working to bust a big white slavery ring who have been tricking and abducting gorgeous bikini models so the spunky buxom girl detective poses as a bikini model and attends a bikini contest sponsored by the slavers. The photographer praises Jasmine's gorgeous all-natural body and she smiles while posing and running her hands over her boobies, enticingly. Eventually she inquires about the other girls who are nowhere to be found but the photographer jokes about them being 'tied-up' at the moment. Jasmine returns with her own comments about the girls being 'tied up'! The bikini detective girl tries to notice anything revealing about the slavers' activities but she is totally unaware of the leather gloved slaver thug sneaking up behind her soaking a pad with a strange liquid. Jasmine the spunky bikini girl detective is suddenly caught off-guard and grabbed from behind! The masked man clamps his wet sleepy cloth over her gorgeous face and Jasmine instantly "MMMMMPH"s as the buxom girl realizes she is in over her head! The masked man's leather gloved hand gropes her big boobs as she protests and struggles in his grip! Slowly the bikini detective is overcome by the fumes and passes out. The man carries her over-the-shoulder into another room and ties her to a bed spread-eagle! (on-screen) The perverted photographer / slaver shoots video footage of the scene as Jasmine eventually awakens to a firm handgag and heavy groping! As she feebly protests the bikini detective is heavily gagged with duct tape and struggles almost erotically against her bonds, moaning and pleading with the camera for release. Her big boobs are fondled throughout the scene and she's soon stripped of her top, allowing her luscious all-natural boobies to jiggle as her struggles! Jasmine is groped and teased by the perverted slavers who delight in watching her struggle and "MMMMMPH" in frustration and dismay! Eventually the man returns and smothers her to sleep with his cloth! WHAT WILL BE THE FATE OF THE BUXOM BIKINI GIRL DETECTIVE?
17 min. $12.99
(Windows Media) WMV file

Copyright © 2012 gaggedgirls.tv
All rights reserved.