'GIRL NEXT DOOR' CUTIE JENNY ANDERSON IS KNOCKED OUT & GROPED BY
A MASKED STALKER IN THIS HOT SCENE!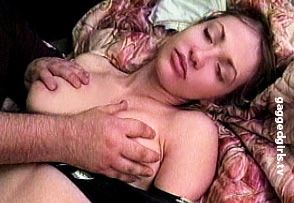 MORE PICS COMING SOON
9 min. $7.99
(Windows Media) WMV file 199mb

Super cute all-natural 'girl next door' Jenny Anderson is sleeping peacefully when a perverse masked man sneaks into her room and feels her up! Eventually the sweet wakes up to find her boobs being groped but a firm handgag muffles her protests! Jenny "MMMMMPH"s beautifully and struggles but the man suddenly produces a wet smelly cloth and clamps it over her pretty face! Jenny puts up a good struggle with nice sexy protests but eventually the overpowered damsel is forced to submit to the chemical domination and embrace the comforting world of sleep!
The masked man carries his prey (in-the-arms / craddle carrying) over to her sofa and begins to grope her innocent body! Jenny is manhandled while knocked out and when she wakes up a tight handgag muffles her pleas for help! She is teased and smothered to sleep again in a gorgeous passout display as her sleepy nightmare continues!
THIS IS A VERY HOT SCENE WITH ONE OF OUR MOST POPULAR MODELS FROM OUR EARLY DAYS!
Copyright © 2012 gaggedgirls.tv
All rights reserved.