JAPANESE BEAUTY MIKO IS A CAPTIVE BIKINI MODEL WHO GETS REPEATEDLY SMOTHERED TO SLEEP WITH A STRANGE SMELLING CLOTH & GROPED BY MASKED FIENDS!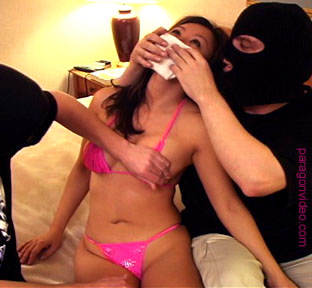 MORE PICS COMING SOON
12 min. 45 sec
$9.99
(Windows Media) WMV file

Miko is a model who is doing a bikini shoot, striking sexy poses and preening for the camera. The photographer suddenly tells her he wants her to do a kidnapping video and Miko looks stunned! Another man quickly grabs her from behind and chloroforms her to sleep while fondling her boobs! When she passes out Miko is carried over the shoulder to a bed where she can be easily fondled! The man has fun playing with her plump boobs and rubs her body all over while she's knocked out!
When she wakes she's handgagged and teased before getting another dose of chloroform to keep her groggy! The photographer reveals that he and his partner are white slavers! Their shoot was a set up to get photos for Miko's 'buyer'! The buyer shows up and is introduced to the sleepy Miko who is still enduring much chloroforming and fondling! Miko can't converse very well but her many sexy "mmmmm"s are good enough for her new Master! The man inspects his merchandise and delights in groping Miko's boobs while commenting on the quality of their catch!
Miko endures groping from two men as she's repeatedly chloroformed and is eventually stripped naked. Her naked body is subjected to much fondling and even more chloroforming that leads to a super sexy conclusion!
Copyright © 2012 gaggedgirls.tv
All rights reserved.