CUTE PETITE BLUE JEAN GIRL DETECTIVE SOPHIE TRIES TO BUST A GROUP OF
WHITE SLAVERS / SEX SLAVERY FIENDS BUT ENDS UP
THEIR SLEEPY GROPED PRISONER!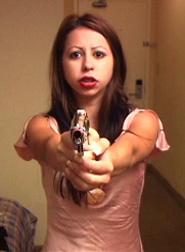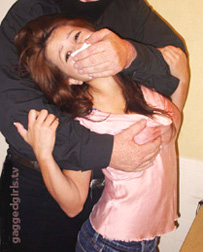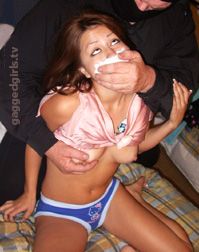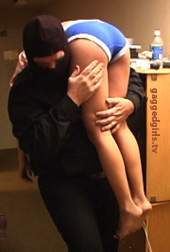 MORE HOT PICS COMING SOON
13 min 48 sec
$10.99
(Windows Media) WMV file

This is a VERY HOT scene! Cute & spunky 'barely legal' blue jean girl detective Sophie tracks a group of white slavers / sex slavers to their underground studio and enters with her gun drawn and ready for action!
While it appears that the room is not occupied Sophie finds sexy clothes on a bed and movie equipment around the room. Further investigation reveals a bottle of chloro that confirms the detective girls' suspicions and she comments out loud about the white slavers being perverts!
Suddenly Sophie spots a slaver hiding in the back of the room recording her actions on video! She holds her gun on him and gets a commanding tone telling him to put his hands up! The slaver ignores her commands and continues shooting footage of the cute girlas she tries to get tough with him. When he tells her that she would lok great in his movies the spunky girl becomes furious and becomes more threatening!
Unfortunately for the feisty little detective the man's partner sneaks up behind her and clamps a sleepy smelling wet cloth over her cute face!
Sophie "MMMMMPH"s beautifully as her whole world comes crashing down around her! This wasn't supposed to happen!
The poor outnumbered and overpowered girl detective is handily groped by both of the men (POV shot) as she slowly passes out in the arms of her captor!
Sophie's sleepy fetish nightmare begins! The not-so-spunky-now girl detective is carried OTS (over the shoulder carrying) to a waiting bed where she is groped and her sweet bare feet are fondled by one of the slavers! Sophie eventually wakes up and tries to get away several times but is frimly handgagged & groped, then smothered with the sleepy cloth each time! The brunette cutie mumbles her feeble protests as she's manhandled by the perverse man and occassionally by his partner (POV shots).
Slowly the sleepy detective girl is stripped down to her 'Hello Kitty' undies and is fondled and drugged some more!
WHAT WILL BE THE FATE OF THE SLEEPY GIRL DETECTIVE?