TYLER SCOT IS A CUTE BIMBO ROCK GROUPIE WHO GETS TRICKED
INTO A NIGHT OF PERVERSITY & SLEEPY TORMEN! THE INNOCENT BRUNETTE IS GIVEN A DRUGGED DRINK, GETS GASSED, & SMOTHERED WITH THE SLEEPY CLOTH WHILE HER SWEET BODY IS GROPED!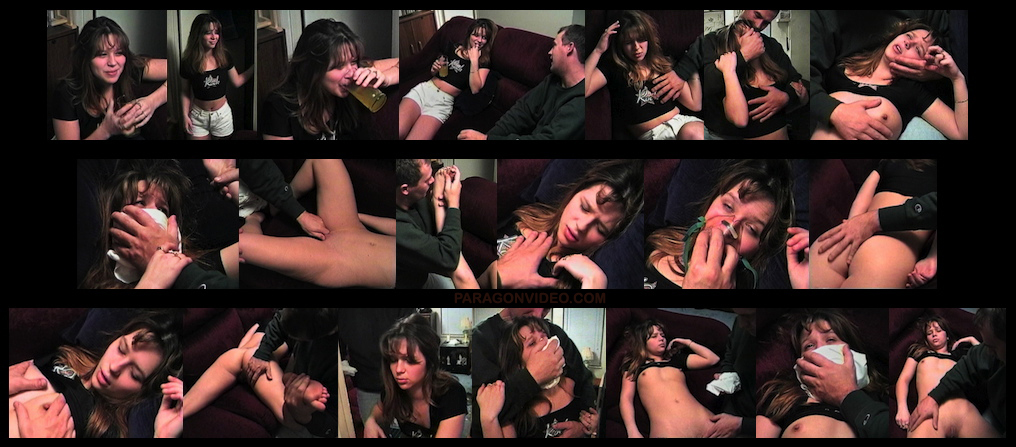 16 min. 37 sec $12.99
(Windows Media) WMV file

THIS IS A HIGHLY REQUESTED CLASSIC SCENE FROM OUR EARLY DAYS FEATURING THE AMAZING PASSOUT TALENTS OF TYLER SCOT
Incredibly cute barely legal 'girl next door' Tyler Scot is a rock & roll groupie bimbo who desperately wants to meet the lead singer of her favorite band. She is so gullible that a perverse guy is able to trick her into going to his house after the concert by telling her that the band is coming over soon. Tyler falls into the man's trap and goes follows him to his lair. She even accepts a drink from the kinky smooth talker and while she is in the bathroom freshening up for her supposed meeting with the band the pervy guy slips a sleeping tablet into her drink! Tyler returns and finishes her drink. Soon she gets woozy and the man decides to make his move! He starts to fondle groggy Tyler but she sleepily pulls away from him. She tries to get up but has a hard time standing. She asks the man if he put something in her drink and he gleefully tells her that he did! Scared but very sleepy Tyler tries to get away only to be grabbed at the door and handgagged! The barely legal brunette "MMMMMPH"s beautifully as she is molested by the kinky man who delights in feeling her drugged body in his grasp! He pulls her back over to the sofa for more handgagging & fondling. Tyler is subjected to a sleepy fetish nightmare as she slowly passes out in the man's hungry arms and her sweet innocent body is groped! The man runs his hands down inside the crotch of her shorts & rubs her cute little titties as well as her sweet foot as he fondles his drugged prey. Later when Tyler wakes up she is very groggy and is verbally teased by the man before he suddenly clamps a wet sleepy cloth over her pretty face! Tyler "MMMMMPH"s in dismay as she's smothered with the smelly cloth & drugged again! The cute little bimbo slowly passes out beautifully and is molested heavily by the fiend who pulls off her shorts and exposes her naked body! He delights in groping and rubbing her ass, pussy & sweet little tits. Later Tyler wakes up again and is suddenly drugged AGAIN! This time an oxygen mask is used to pump her full of sleeping gas! (THIS IS A TECHNIQUE WE PIONEERED SEVERAL YEARS AGO IN MANY OF OUR OLDER VIDEOS – WE WILL FEATURE MORE GASSING SCENES IN SOME OF OUR NEWER VIDEOS AS WELL) Tyler gets gassed to sleep in a GORGEOUS display of passing out with beautiful sighs and sleepy eyes! The man takes full advantage of his unconscious bimbo and gives her drugged body a heavy grope down! Eventually Tyler wakes up again and tries to crawl away but when she gets to the door she is recaptured, pulled back and the sleepy cloth is clamped over her protesting face AGAIN smothering her mouth and muffling her cries! Tyler is slowly drugged yet AGAIN as she is taken back to the sofa and relentlessly fondled! Tyler is VERY groggy from the sleepy cloth but is not completely unconscious. She moans feebly as she's molested but eventually the man decides to knock her out completely so he smothers her sweet face with the sleepy cloth one last time for the night making sure that she is drugged into deep slumber. Tyler passes out gorgeously and sleeps on unaware of the perversion befalling her.
WHAT WILL BE THE FATE OF THE SLEEPY BIMBO?
Copyright © 2012 gaggedgirls.tv
All rights reserved.