STAR GIRL IS BOUND & BALLGAGED BY HER BRAINWASHED PARTNER STARGANA FOR THE PLEASURE OF HER PERVERSE MASTER!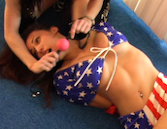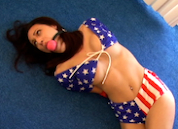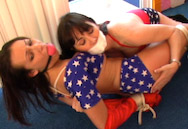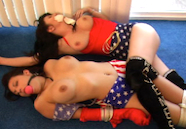 17 min. $12.99
(Windows Media) WMV file - 349mb

Brainwashed super heroine Stargana has kidnapped her partner Star Girl and ties her up on the floor of a white slavery hideout for the pleasure of her new Master! She binds the drugged beauty and wakes her up when she's done. Star Girl is groggy and can't believe what's happened to her partner! She tries to talk Stargana out of her plans but Stargana quickly ballgags her costumed captive and begins to grope her plump beautiful boobs! Star Girl is roughly fondled and spanked as the brainwashed villainess obeys the commands of The Master! The Evil White Slaver instructs his slave in the art of super heroine discipline and puts the helpless Star Girl through intense bondage torment! Star Girl "MMMMMPH"s beautifully as Stargana's roving hands seek their targets all over her bound and squirming body!
At one point the brainwashed super heroine / villainess lets Star Girl struggle on the floor topless for a while before she returns with a roll of white medical tape! Stargana kneels down over Star Girl, leans close to her face and says that she has learned to love her own submission! She then begins to gag herself with the tape! The obsessed 'super slave' indulges in her gag obsession by "MMMMMPH"ing sensually and rubbing her own beautiful boobs as she plasters several strips over her lovely mouth! Star Girl joins her gagged chorus and is shocked to see such deep & kinky submission by her brainwashed partner!
Stargana lovingly rubs the tape over her gagged mouth and becomes incredibly aroused by the sensation of being muffled! She goes wild on Star Girl's body and rubs the struggling, ball gagged super beauty all over while moaning right in her face! Stargana goes into a super sexual gag frenzy and begins to slap her own boobs repeatedly! Star Girl "MMMMMPH"s in horror at seing her partner acting out such bizarre fantasies! Stargana loves the response she gets from Star Girl and even slaps her own pussy as she moans in gagged ecstacy! The scene builds to a wild crescendo of intense fondling and erotic gagged moaning! At the peak of her arousal Stargana chloroforms Star Girl to sleep! When she is done, The Master orders her to chloroform herself! Stargana obeys her Master and lays her head lovingly on Star Girl's naked boob as she chloroforms herself to sleep!
Copyright © 2010 gaggedgirls.tv
All rights reserved.