MAI LY IS CLOTH SMOTHERED TO SLEEP WHILE PUTTING ON HER MAKE-UP
& FONDLED BY A MASKED STALKER! SHE IS CARRIED AWAY AND
SUBJECTED TO REPEATED CLOTH SMOTHERING / HANDGAGGING!
PART 1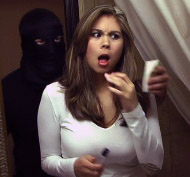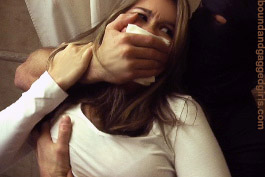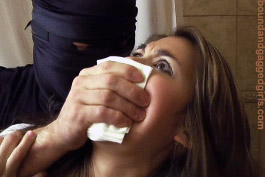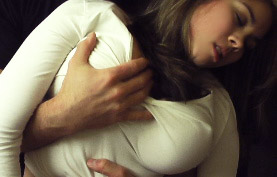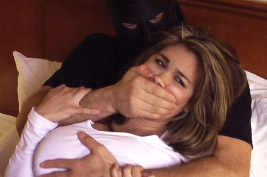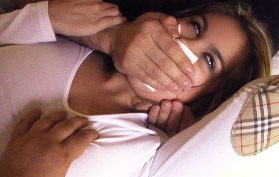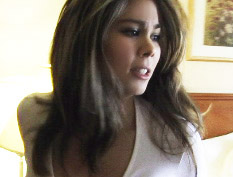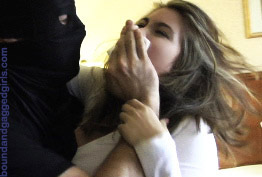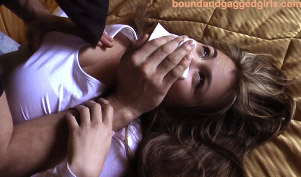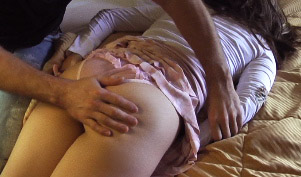 Mai, a beautiful blonde in a tight white top, sexy flowing skirt & high heels, puts on her make-up in front of a mirror as she prepares to leave for a night on the town. She suddenly gasps in horror as a masked stalker appears behind her! Mai is quickly muffled by a chloroform pad tightly pressed over her lovely face! The stalker grabs his victims big boobs as she "MMMMMPH"s in dismay and makes kinky comments telling her that she'll soon be asleep! Mai gives a good struggle but the chloroform fumes eventually overpower the beautiful damsel and she slowly passes out with eye rolling and trailing "mmmph"s in her captor's arms! She is then carried away 'over the shoulder' and kidnapped!
Mai's epic chloroform torment begins! The gorgeous blonde is then subjected to a cruel chloroform game of 'cat and mouse' where the stalker allows her to try to get away only to recapture her and chloroform her each time she tries to get away! He teases her while she's half-conscious with kinky comments about her being drugged and helpless as he slowly undresses her! Mai is repeatedly handgagged as she tries to protest the continuous fondling of her beautiful drugged body but the hungry hands of the stalker will not be denied!
9 min. 30 sec. $9.99
(Windows Media) WMV file - 149mb
DON'T MISS PART 2
Copyright © 2010 gaggedgirls.tv
All rights reserved.