JANA'S BONDAGE NIGHTMARE CONTINUES! SHE IS JOINED IN BONDAGE BY HER FEMALE KIDNAPPER WHO HAS JUST BEEN DOUBLE-CROSSED BY HER MALE PARTNER! BUXOM ARIEL STUGGLES IN BONDAGE WITH HER BEAUTIFUL EUROPEAN KIDNAP VICTIM AS SHE & JANA "MMMPH" AT THE KINKY COMMENTS OF THEIR MALE CAPTOR!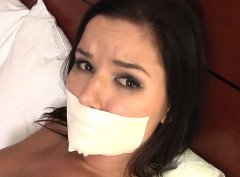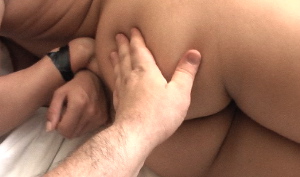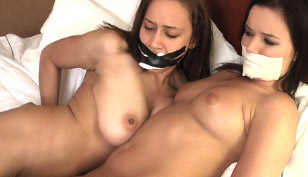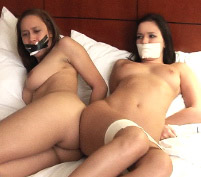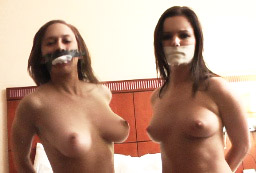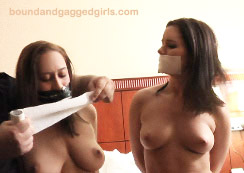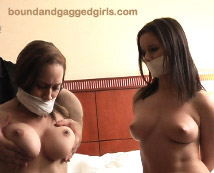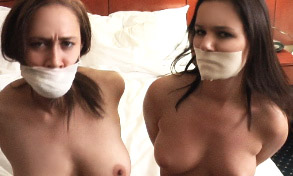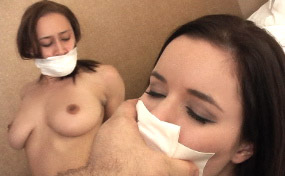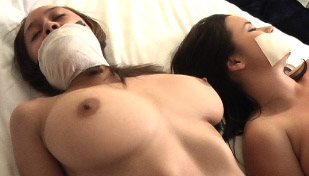 11 min. $9.99
(Windows Media) WMV file - 172mb
PART 2

Jana is still gagged with microfoam tape but she notices that Ariel who lays sleeping & taped up next to her is NOT gagged so Jana tries to wake up the bound & drugged kidnapper girl! Ariel's double-crossing partner continues to shoot video footage of the naked girls as they struggle against their bonds teasing the groggy Ariel about falling victim to his betrayal! Ariel is groped and spanked by her kinky partner as the man gets great POV (point of view) shots of her squirming as his hands squeeze her perfect ass cheeks and all-natural big boobs! Jana tries to give a verbal attack but only "MMMMMPH"s can be heard as the man continues to have his way with Ariel's struggling body!
Soon Ariel is gagged (her 1st gag is not applied on-screen) with a sock stuffed in her mouth and electrical tape covering her face! The naked tape bound and struggling beauties constantly protest through their gags, sometimes directly at the camera and other times at each other! POV shots of fondling continue as the kidnapper teases his now helpless partner & even gets Jana to admit that she enjoys seeing Ariel pay for tormenting her!
Eventually Ariel needs a bigger gag so the girls are set side-by-side as they await their fates and the man prepares the 'gag wrap' for Ariel's fiesty mouth! (This gag is applied on-screen) He moves in with a tight handgag first and helps himself to Ariel's big swaying boobs while Jana contributes to the muffled chorus and shows her disapproval! Ariel is then very tightly gagged with layers of gag wrap until her muffled protests are well contained! Her boobs are again subjected to more intensive fondling as both girls "MMMMMPH" in dismay! For a while the girls are left to struggle as the man returns to videotaping their dilema! Eventually he decides it's time for them to go to sleep while he leaves to collect Jana's ransom so he drugs both of the squirming girls to sleep with chloroform!
THIS VIDEO IS FILLED WITH LOTS OF GREAT SEXY PROTESTING & STRUGGLING
WITH A MAJOR AMOUNT OF MYSTERIOUS 'GAG-TALK' COMING FROM JANA!
DON'T MISS PART 1
Copyright © 2010 gaggedgirls.tv
All rights reserved.