THUNDER GIRL ATTEMPTS TO CAPTURE THE CRUEL WHITE SLAVER 'THE COUNTESS' BUT ENDS UP DRUGGED WITH SLEEPING GAS, GROPED BY A HENCHMAN, BOUND & BALLGAGGED BY THE CRUEL VILLAINESS!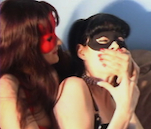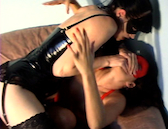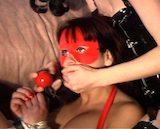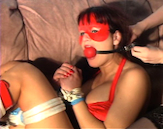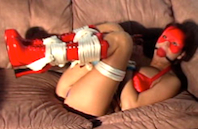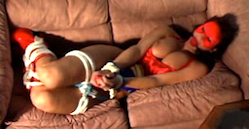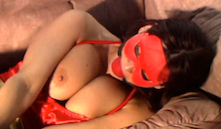 17 min. $12.99
(Windows Media) WMV file - 349mb

Super heroine Thunder Girl makes an impressive debut in this super-hot video! Thunder Girl is a crimefighting beauty who fights for justice against evil white slavers but ends up the tormented bound and gagged captive of the cruel Countess!
The Countess is relaxing in her chamber talking to herself about Thunder Girl when the super beauty suddenly handgags her from behind and teases her about being the helpless one. The Countess struggles with Thunder Girl and breaks free and an all out battle begins!
The two costumed cuties try to smother each other in a 'hand-over-mouth / smothering' battle that eventually ends up with Thunder Girl as the victor! The Countess is smothered into unconsciousness but just as Thunder Girl declares her victory she's suddenly grabbed from behind by the henchman who clamps an oxygen mask over her face and pumps her full of sleeping gas!
Thunder Girl is knocked out again and re-captured. The Countess recovers and ties Thunder Girl up (on-screen) and when she wakes up the super beauty is handgagged and tormented by The Countess as she teases her helpless prisoner.
The Countess then gags Thunder Girl with a fat rubber ball gag (which reduces her pitiful vocal defiance to muffled gag-talk) and lets her squirm in bondage while she prepares for her transportation. Thunder Girl gives a GREAT sexy struggling perfomance as she "MMMPH"s and rolls around with her protests effectively muffled by the merciless rubber ball.
This is one HOT scene with Thunder Girl trying desperately to free herself and resume her mission of bringing to justice the evil white slavers!
WHAT WILL BE THE FATE OF THUNDER GIRL?
Copyright © 2010 gaggedgirls.tv
All rights reserved.