GORGEOUS ALL-NATURAL BUXOM BRUNETTE JASMINE IS A
NAKED CLEAVE GAGGED CAPTIVE OF A PERVERSE MASKED GROPER!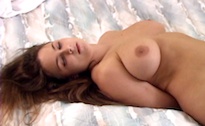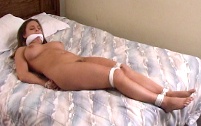 11 min. $9.99
(Windows Media) WMV - 271 mb

Beautiful buxom brunette Jasmine slowly wakes up from her drugged nap to find that she's completely naked and bound with ropes on a strange bed! The groggy damsel tries to get free only to get a black leather glove clamped over her mouth before she can cry for help! Her masked captor gropes Jasmine's big boobies as she "MMMMMPH"s in dismay and anger at the perverse indiginity! (Jasmine alternates beautifully between distress and anger as her emotions are overwhelmed by her precarious predicament)
Next the man ties a double layer cleave gag around Jasmine's mumbling mouth and resumes his fondling with both gloved hands! Jasmine squirms and jiggles beneath the leather as she "MMMMMPH"s / gag-talks a bit during her sweet struggles! Jasmine is then left to test her bonds as the man leaves momentarily to prepare for her removal from the building.

The gorgeous buxom damsel rolls around on the bed humiliated in her nakedness and protests as she dreads the return of the pervert! Eventually the masked fiend returns and has more fun with her sweet vulnerable charms before making her hop out of the room (boobies bouncing beautifully). He forces the gagged girl to hop into the living roomand sits her on a sofa where he continues to grope her plump boobies! Eventually it's time to transport the muffled brunette so Jasmine is smothered to sleep with a wet and smelly cloth!
WHAT WILL BE THE FATE OF THE BUXOM BRUNETTE?
AS ALWAYS JASMINE DELIVERS AN INCREDIBLY SEXY PERFORMANCE!
Copyright © 2012 gaggedgirls.tv
All rights reserved.