GORGEOUS ALL-NATURAL CUTIES: LATINA ANGEL & BLONDE JULIE ANNE ARE STALKED,
PUT TO SLEEP & GROPED BY PERVERSE FIENDS!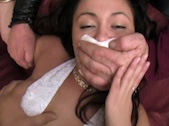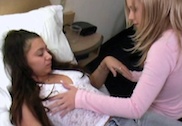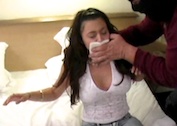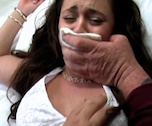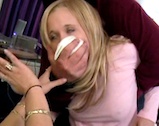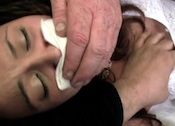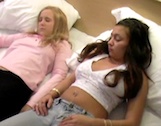 10 min. $8.99
(Windows Media) WMV file

Angel (in tight, sexy jeans, white high-heels, and a cute white top) is normally a tough girl but tonight she is scared. The gorgeous all-natural buxom Latina calls Julie Anne and tells her that a cyberstalker is threatening to put her to sleep with a cloth and tie her up! She explains that her friend Linda must have teased the guy when she used Angel's computer and that she is innocent. She asks Julie Anne to come over to spend the night because she's scared, but then jokes with Julie Anne about sexy role playing with Julie Anne being her 'stalker' and putting her to sleep! After she hangs up she waits impatiently for Julie Anne to come over. Meanwhile the stalkerand another man sneak into her apartment. The one guy soaks a sleepy pad behind her while his partner records the assault on POV video!
Suddenly the first guy attacks the buxom brunette and covers her mouth with the sleepy cloth while hungrily grabbing her big boobs! Angel gives a great intense struggle but the man dominates her while the other guy gets some hot POV shots of himself groping Angel's big boobies too! The guy holds the cloth over the exotic beauty's lovely face until she becomes too sleepy to fight, eventually passing out!

The stalker then carries Angel over the shoulder while he and his partner smack her blue jean ass. Angel is laid on her bed and fondled until Julie Anne comes over. The thugs hide and wait as Julie Anne walks into Angel's apartment. The beautiful blonde sees Angel sleeping on her bed and tells her that it's dangerous for her to leave her door open. Julie Anne goes over to Angel and wakes her up, but Angel is very groggy and Julie Anne thinks that she's sick with a fever. Julie Anne leavesthe room for a few moments to get Angel some water while Angel slowly sits up and starts to regain her senses... but the thugs suddenly come out of hiding and smother Angel back to sleep with the cloth & grope her some more before Julie Anne returns! When Julie Anne comes back into the room she sees Angel unconscious again gets worried. The cute unsuspecting blonde tries hard to wake up her unconscious friend.
As Angel starts to come around Julie Anne is suddenly grabbed from behind and muffled with the sleepy cloth! The blonde beauty is slowly put to sleep in front of Angel as Angel groggily tries to keep her friend from being knocked out! It's no use, and after a desperate stuggle Julie Anne passes out in front of Angel, who is handgagged by the other thug! Angel is groped, teased and put to sleep again! The two gorgeous girls are then subjected to a sleepy fetish nightmare that continues in PART 2
Copyright © 2012 gaggedgirls.tv
All rights reserved.