BUXOM & CURVY ALL-NATURAL BRUNETTES LONDON ANDREWS & TRACY JORDAN
ARE KINKY ROOMMATES WHO BATTLE IT OUT WITH A SLEEPY CLOTH
IN THIS INCREDIBLY SEXY 2-PART PANTYHOSE SCENE!
(BOTH GIRLS ARE WEARING PANTYHOSE)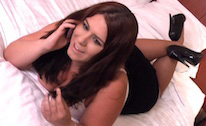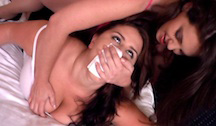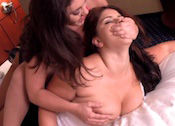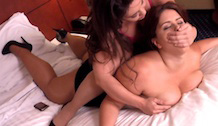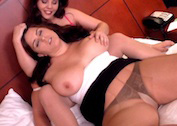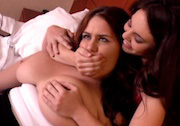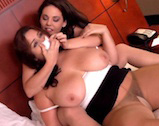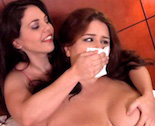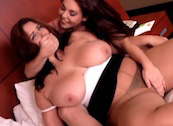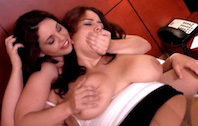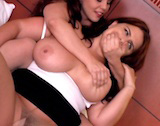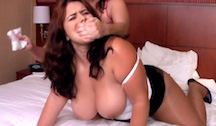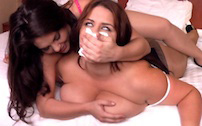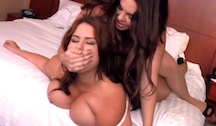 10 min. $8.99
(Windows Media) WMV file

Buxom brunette 'girl next door' London Andrews (in pantyhose & high heels) chats with her kinky lesbian friend on the phone about how she has been knocking out her gorgeous roommate Tracy Jordan in her sleep with her trusty cloth and taking advantage of her! As London describes the process of putting Tracy to sleep she doesn't notice that Tracy (also in pantyhose & high heels) is listening to her from the doorway and has found London's bottle of sleepy liquid! The vengeful girl soaks the cloth as she listens to London brag about her conquests, then creeps up on her buxom betrayer with cloth in hand!
Poor cute London is suddenly caught off guard when the cloth is suddenly clamped over smiling face! She "MMMMMPH"s as she instantly recognizes the smell but Tracy has the advantage of surprise and moves quickly to subdue her prey! London is prevented from removing the cloth and has no choice but to breathe through it! Tracy gropes London's titanic tits as she forces the kinky brunette to take some of her own medicine! After a very sexy struggle London slowly passes out with lovely rolling eyes and sweet muffled sighs!
Tracy gloats over her fallen prize and verbally chastises her unconscious roommate with comments of revenge and perversity! The victorious girl handgags her sleeping captive and fondles her enourmous boobies while continuing to brag about her conquest!
London is subjected to a sleepy cloth nightmare by her vengeful roommate who begins to get aroused by the feeling of dominating her perverted captive. Tracy puts her hand over London's mouth quite often throughout the scene and delights in teasing groggy London with her humiliating comments!
Whenever London tries to escape she is easily overpowered and smothered back to sleep or into a half conscious state by Tracy's cloth!
THIS IS ONE INCREDIBLY HOT SCENE!

DON'T MISS THE KINKY CONCLUSION IN PART 2
Copyright © 2012 gaggedgirls.tv
All rights reserved.