THE KINKY CONCLUSION TO THE
EPIC SLEEPY CLOTH BATTLE OF BUXOM BRUNETTE ROMMATES
TRACY JORDAN & LONDON ANDREWS!
(BOTH GIRLS ARE WEARING PANTYHOSE)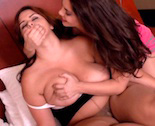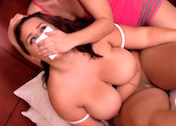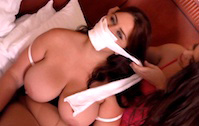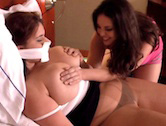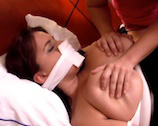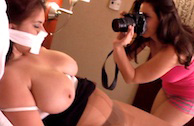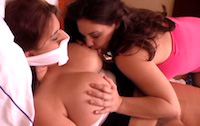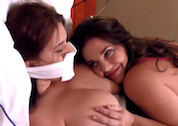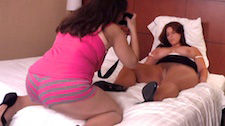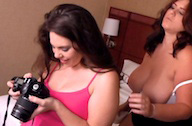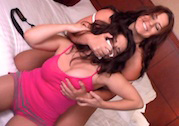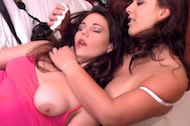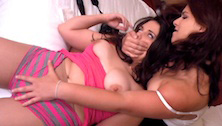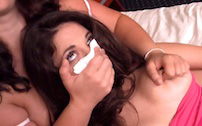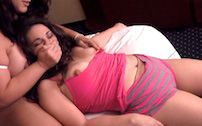 9 min. $8.99
(Windows Media) WMV file
PART 2

Tracy has dominated her perverted rommate London Andrews with London's own sleepy cloth after finding out that the ultra buxom girl has been knocking her out at night while she slept so that London could take advantage of her!
Now Tracy is determined to humiliate her soon to be ex-rommate by taking pictures of her smothered by her own sleepy cloth! She makes kinky comments about London as she snaps photos of the helpless girl but makes the mistake of letting her guard down as she takes too long looking at the pictures she took!
London has enough time to recover and she soon stalks her gorgeous rommate with her reclaimed sleepy cloth! Poor Tracy is suddenly smothered from behind and groped by her perverted rommate who dominates her handily and keeps the cloth in place as Tracy is forced to breathe its sleep-inducing charms! Tracy "MMMMMPH"s beautifully and gives a great struggle but London overpowers the smaller girl and keeps her smothered until her lovely eyes roll back and she slowly, beautifully passes out!
Tracy is now subjected to London's sleepy perversity unleashed!
The super buxom curvy brunette victor plays with her prey's sweet body and handgags her as she teases her about being her sleepy victim! Tracy can only "MMMMMPH" in sleepy dismay as she is smothered again with the sleepy cloth!

WHAT WILL BE THE FATE OF THE SLEEPY ROOMMATE?!?
DON'T MISS PART 1
Copyright © 2012 gaggedgirls.tv
All rights reserved.