ALL-NATURAL BUXOM BRUNETTES TRACY JORDAN & LONDON ANDREWS ARE STUNNING
IN THIS EPIC SUPER HOT SLEEPY CLOTH 2-PART SCENE!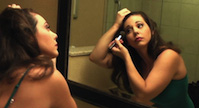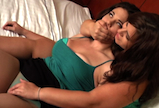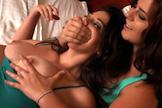 9 min. 20 sec. $8.99
(Windows Media) WMV file

Cute girl next door Tracy is getting ready for a night of partying and applies her make-up in front of her mirror while kinky white slavery / sex slavery lesbian London Andrews soaks a cloth from her hiding place (BOTH GIRLS ARE WEARING PANTYHOSE). Poor sweet Tracy is shocked and terrified when London suddenly grabs her from behind and clamps the wet white cloth over her gasping face!
Tracy "MMMMMPH"s in horror as her boobies are groped by the perverted lesbian slaver who is larger and stronger than her! London relishes the feeling of her beautiful squirming and muffled captive writhing in her grip! She tells Tracy to give in and go to sleep as she smothers the innocent brunette into submission!
Tracy's struggle is valiant but ultimately futile as she is unable to break her captor's tight grip on her face and she has no choice but to submit to the very powerful sleepy cloth!
London watches with glee as her captive slowly and gorgeously succumbs to her kidnapping technique! Tracy's eyes roll beautifully and her sexy muffled sighs slowly fade as she teeters on the edge of consciousness before embracing the loving arms of sleep.
London inspects her prey and smiles with approval before giving her a symbolic handgag.
Next Tracy is knocked out on a strange bed while London gropes her lovely body and runs her hands over Tracy's pantyhose legs and crotch. Tracy slowly wakes up and makes some cute sleepy comments before London handgags her and begins to verbally tease her. Tracy is too sleepy to resist and is smothered back into submission with the sleepy cloth to keep her helpless and under control!
London delights in tormenting her groggy captive with more handgags, sleepy cloth smothering & perverted fondling of Tracy's lovely assets. She tells the cute brunette her plans to sell her into white slavery / sex slavery and Tracy "MMMMMPH"s her sleepy disapproval!
WHAT WILL BE THE FATE OF THE SLEEPY PARTY GIRL?

PART 1 of 2
DON'T MISS THE EXCITING CONCLUSION IN PART 2