THE KINKY CONCLUSION OF THE EPIC 2-PART SLEEPY CLOTH BATTLE
OF THE ALL-NATURAL BUXOM BRUNETTES!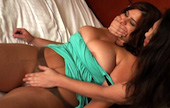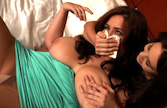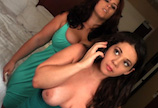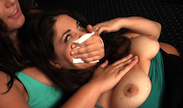 9 min. 25 sec. $8.99
(Windows Media) WMV file

Tracy turns the tables on the perverted lesbian London Andrews who plans to sell the sleepy party girl into white slavery / sexual slavery! When London lets down her guard Tracy grabs the sleepy cloth and turns it against its owner! Poor London is caught completely unaware and is shocked to witness the speed and passion of her victim for revenge!
Tracy handily smothers London's pretty face with her own sleepy cloth and heavily gropes the buxom brunette's massive boobies as she chastises her captor for kidnapping her! London "MMMMMPH"s in dismay as she is slowly but surely overpowered by the energized smaller girl & is beautifully smothered to sleep, her sweet eyes rolling as her muffled protests subside!
Now Tracy has her revenge! The fiesty party girl gives her lesbian captor a taste of her own medicine with more applications of the sleepy cloth while she gropes and teases the larger but heavily sedated female slaver! London is finally knocked out so that Tracy can call someone on her phone for help. Unfortunate for Tracy she underestimates just how long London will stay under!
As Tracy chats on the phone (forgetting to pull up her top so her boobs are still hangign out) London recovers in the background from her forced nap and reclaims her sleepy cloth! Slowly the buxom lesbian stalks her unssupecting prey relishing the recapture to come! Sure enough Tracy is caught completely off-guard and is smothered to sleep AGAIN by the stronger and more cruel femme slaver!
Tracy is subjected to more sleepy punishment and endures more perverse groping at the hands of her kinky captor who lovingly presses the sleepy cloth over her beautiful face at every opportunity!
WHO WILL BE THE ULTIMATE VICTOR IN THIS SLEEPY BATTLE OF THE BUXOM BRUNETTES?

PART 2 of 2
DON'T MISS PART 1
Copyright © 2012 gaggedgirls.tv
All rights reserved.