ALL-NATURAL BUXOM BRUNETTES LONDON ANDREWS & TRACY JORDAN
ARE HELPLESS WHITE SLAVERY / SEX SLAVERY CAPTIVES (IN PANTYHOSE)!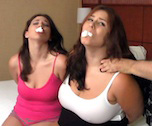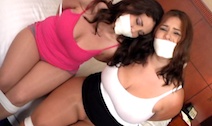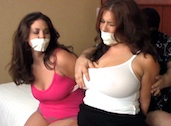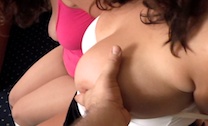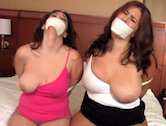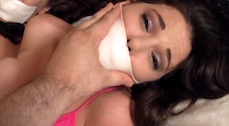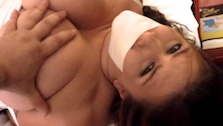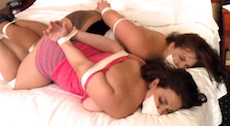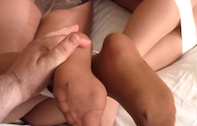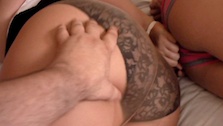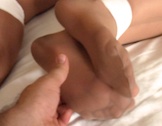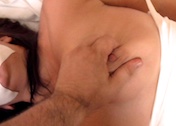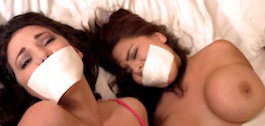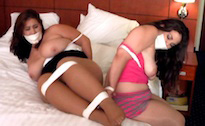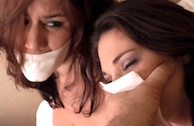 16 min. $11.99
(Windows Media) WMV file

Beautiful buxom all-natural curvy 'girl next door' cuties Tracy & London Andrews (both in tight shorts, cute tops & HOT pantyhose) wake up from their drugged nap to find that they are in a strange hotel room bound with tape! The sleepy girls come around and begin asking each other the usual questions about what happened and comment about the sleepy cloth that knocked them out. Soon a masked thug appears and handgags the frightened girls!
Lots of HOT protesting from London & Tracy as they are teased with kinky comments and manhandled by their mysterious perverted captor
who delights in their dire peril! The girls get their lovely mouths stuffed with cloth and wide strips of microfoam tape are plastered over their sweet lips beautifully muffling their feeble pleas as they are heavily molested! The buxom brunettes are continuously subjected to LOTS of groping, spanking and verbal teasing by their kinky captor who reveals his evil white slavery / sex slavery plans to them while they "MMMMMPH" in reaction to the perverse revalations!
The lovely damsels squirm and protest beautifully and look into each other's eyes as they moan in dismay as the perverted slaver shoots POV video footage of them for their prospective buyers! The gagged fun continues until it's time to transport the girls to a more secluded location! As the 'sleepy cloth' is revealed Tracy & London "MMMMMPH" in recognition and make a vain gagged attempt to prevent the inevitable!
The tape is removed from their mouth but like the good girls they are, they don't dare spit out their mouth stuffing!
One after the other the buxom curvy brunettes are put to sleep and their sweet mouth stuffed faces lean against each other in sleepy support.

WHAT WILL BE THE FATE OF THE KIDNAPPED 'GIRLS NEXT DOOR'?
Copyright © 2012 gaggedgirls.tv
All rights reserved.