JAPANESE SUPER HEROINE SOLAR GIRL IS SUBJECTED
TO THE PERVERSE SLEEPY / BONDAGE FANTASIES
OF A FAN WHO WON HER CONTEST!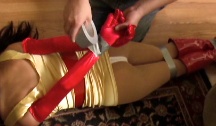 11 min. $8.99
(Windows Media) WMV file

Solar Girl visits a fan who won her contest 'Spend a Day With Solar Girl' (shot from the fan's point-of-view)!
The gorgeous Japanese superheroine shows up happy and perky with that beautiful charming smile of hers only to find out that the fan wants to see her bound and gagged! She tries to get out of her commitment but the fan insists that she obey and that she is bound by the law! The fan's partner handgags the super beauty from behind and fondles her boobs while she "MMMMMPH"s and moans in dismay!
The fan then tells her that she will be knocked out with his sleepy cloth! Solar Girl's shocked reaction is great! The super beauty is then slowly smothered to sleep in a very sexy scene with gorgeous eye rolling & muffled protests! The unconscious super crusader is then laid out on the floor and bound with duct tape! Then she is brought to her feet, handgagged while groggy, then her mouth is taped in beautiful fashion with several strips of duct tape as she "MMMMMPH"s in indignation! Solar Girl gives a massive flurry of cute and sexy protests and LOTS of sexy gag-talk as the fan's partner has his way with her boobs! What do the kinky fans have in store for the taped up super damsel?!?
A VERY HOT SCENE THAT SUPERHEROINE KO / BONDAGE LOVERS SHOULD NOT MISS!
Copyright © 2012 gaggedgirls.tv
All rights reserved.