ONE OF THE HOTTEST 'AMERIGANA'
SUPERHEROINE KO / BONDAGE SCENES!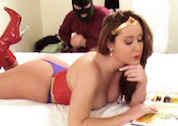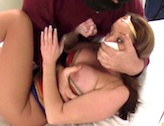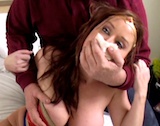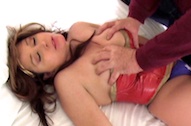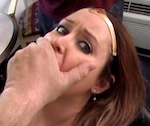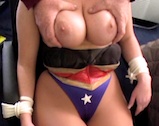 18 min. $12.99
(Windows Media) WMV file

The amazing, kinky 'Amerigana' series has featured some of Christina Carter's BEST knockouts and bondage scenes and here is a GREAT example of the sexy superheroine damsel at her BEST!

Amerigana is proof reading her new comic book in order to approve it before it hits the newstands. But before she can finish reading it the super beauty gets a visit by some perverse thugs who have plans to take her captive!
One masked fiend sneaks up on the lovely super heroine while soaking a cloth with a dark bottle! One of them shoots video of the attack while the other jumps on Amerigana and smothers her pretty face with the cloth! Amerigana puts up a desperate fight and manages to kick the thug off her! He flies against the wall and Amerigana is after him in an instant! She grabs the fiend and demands that he tell her what he's up to, but the thug is an expert kidnapper and quickly manuevers the chloroform cloth back over Amerigana's shocked face! Amerigana protests intensely as she's held tightly by the thug and groped! The great sleepy cloth battle continues as Amerigana threatens to beak free, only to finally be put to sleep and dominated in the end! The thugs play with her knocked out body (nice POV shots), then the masked thug carries the unconscious superheroine over the shoulder (OTS carrying) to a chair and ties her up!
Amerigana wakes up slowly to a tight handgag! She is told by the thugs that her comic contains incriminating details about their operations so they need to make some changes before the issue is printed! The super amazon is then gagged with several strips of white tape and her big boobs are fondled heavily as she struggles and 'MMMPH's dramatically! The one thug shoots her on video as she struggles and protests at the camera quite often (this is a hot scene). At one point she's given more chloroform to calm her down only to regain her strength soon afterwards and continues her struggles until she has to be completely chloroformed to sleep!
FOR MORE KINKY SCENES WITH CHRISTINA CARTER AS A SEXY WW SUPERHEROINE GETTING KNOCKED OUT GAGGED & GROPED
CHECK OUT HER MANY FULL-LENGTH VIDEOS AT OUR STREAMING VIDEO SITE

Copyright © 2012 gaggedgirls.tv
All rights reserved.