BUXOM JASMINE IS AN ACTRESS TRICKED INTO A FAKE AUDITION
BY A PERVERSE 'DIRECTOR' WHO MAKES HER HIS SLEEPY PLAYTHING!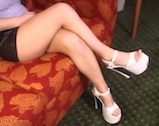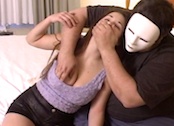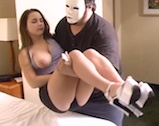 12 min. 42 sec $9.99
(Windows Media) WMV - 282mb
PART 1

Gorgeous buxom all-natural brunette Jasmine answers an ad for amateur actresses and meets the director for an audition. She is innocent and naive and soon falls into the director's perverted trap. He tricks her into playing a sleepy cloth victim while he wears a villain mask and he gropes her while she 'auditions' for the role. Poor Jasmine soon finds out that the strange smell of the sleepy cloth is all too real! She pulls away several times, commenting about the strong smell but the director recovers her face with his cloth, eventually overpowering her and putting her to sleep anyway! He helps himself to Jasmine's beautiful body and fondles her while she's unconscious. He then carries her over-the-shoulder into the bedroom and lays her on the bed.

The 'director' continues to fondle her as she wakes up. He teases her about 'getting the part' in his movie and torments her by keeping her half-conscious with the cloth while fondling her breasts and ass. He keeps her handgagged throughout the scene as well. Jasmine is great as the drugged beauty who tries in vain to escape the clutches of the kinky director! Her sexy "MMMMMPH"s are plentiful her drowsy reactions are perfect!
THIS IS ONE OF JASMINE'S HOTTEST SLEEPY CLOTH SCENES! HITS ALL THE RIGHT MARKS OVER AND OVER AGAIN!

HIGHLY RECOMMENDED!
DON'T MISS PART 2
Copyright © 2012 gaggedgirls.tv
All rights reserved.