GORGEOUS BUXOM BLONDE ABBEY IS A KIDNAPPED WAITRESS GAGGED, GROPED, TORMENTED,
& KNOCKED OUT BY HER PREVERTED ROOMMATE TORI WHO REVEALS HERSELF TO BE
THE 'GAGGED SLAVE' OF A KINKY WHITE SLAVERY / SEX SLAVERY FIEND!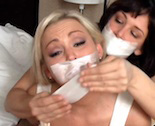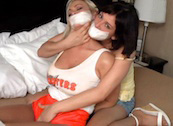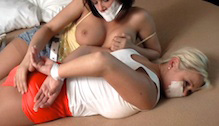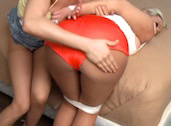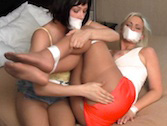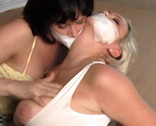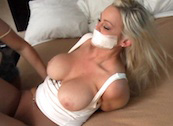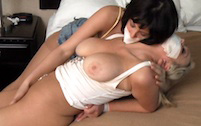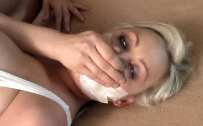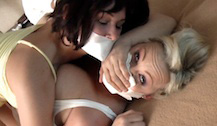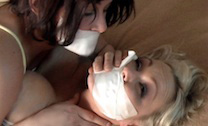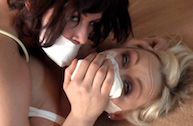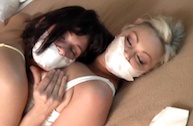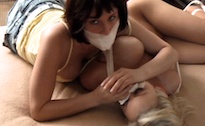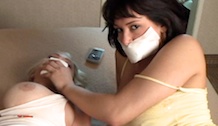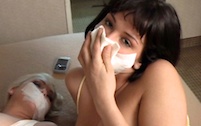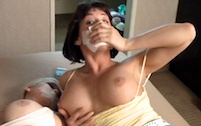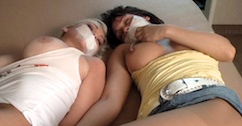 11 min. $9.99
(Windows Media) WMV - 240mb


Buxom gorgeous blonde Amazon babe Abbey has been captured! The sexy waitress wakes up from her drugged nap to find that she's bound with medical tape and is being fondled by her gagged roommate Tori! A firm handgag from the kinky brunette muffles Abbey's protests as her sexy struggles are shot on video (POV shots) by Tori's 'Master' a perverse white slaver who commands his brunette 'gag slave' to molest and tease their captive blonde prey!
Abbey moans & gag-talks beautifully as several strips of medical tape are pressed over her lovely mouth and Tori moans in sexual satisfaction throughout the scene as she gropes her rommates titanic tits and smacks / spanks / rubs her nice round ass! Abbey is handsmothered, verbally teased by the slaver, handgagged, & groped relentlessly by her perverted, gagged roommate.
Abbey's gorgeous Amazon body is subjected to continuous bondage torment as she is squeezed, smacked & handsmothered over and over again while being teased about her inevitable fate as a helpless sex slave! Tori also gropes herself throughout the scene just to twist Abbey's mind with her obvious lust for being gagged! The revelation that her trusted roommate is actually a perverted 'gag slave' of an evil white slaver who plans to sell her into slavery is too much for the confused blonde!
At one point Abbey is handsmothered into a half conscious state with her sexy eyes rolling in defeat but the slaver commands Tori to finish her off with the sleepy cloth! Tori obeys like the good little gagged slave that she is, and covers her captive rommate's mouth with the soaked cloth!
Abbey "MMMMMPH"s in dismay but can't resist the sleep that overhelms her. Tori removes the cloth a couple of times during the smothering to look into Abbey's eyes, drinking in the sweet signs of betrayal before replacing the cloth over her blonde captive's gagged mouth and putting her out!
After Abbey is unconscious the slaver commands Tori to put herself to sleep with the cloth and Tori obeys her Master with lusty relish! The muffled brunette "MMMMMPH"s beautifully as she smothers herself with the sweet cloth and roughly gropes her own boobies! Tori looks right into her Master's video camera and gives some lovely flashes of pleaure with her eyes as she slowly passes out, her sleepy eyes rolling until she goes under, finally falling on the bed next to her gorgeous gagged & drugged roommate!
THIS IS AN INCREDIBLY HOT SCENE THAT IS HIGHLY RECOMMENDED FOR FANS OF THIS TYPE OF KINKY BONDAGE!