JAPANESE CUTIE YURI IS SUBJECTED TO BONDAGE GROPING TORMENT & TEASING
BY STRANGE MEN WHO DELIGHT IN HER PROTESTS AS SHE TRIES TO
'GAG-TALK' HER WAY TO FREEDOM!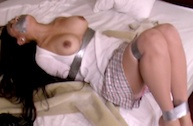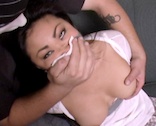 9 min. $8.99
MP4 Video - 160mb

Yuri the Japanese beauty with natural 'anime eyes' gives incredible expressions of dismay in this amazingly HOT scene! The duct taped cutie pleads to not be gagged even as her cute mouth is stuffed with cloth and lovingly sealed with several strips of duct tape! She quirms and "MMMMMPH"s beautifully as her sweet body is heavily fondled before she struggles solo! Poor Yuri's feeble escape attempts only result in more punishment and over the shoulder (OTS carrying).
At the end of the scene Yuri's teased with the sleepy cloth then gets smothered into unconsciousness in a top notch scene!

YURI DOES LOTS OF SEXY PROTESTING & 'GAG-TALKING' THROUGHOUT THIS SUPER HOT VIDEO!
Copyright © 2012 gaggedgirls.tv
All rights reserved.