SPY GIRL / WHITE SLAVER DANIELLE TRIXIE IS ATTACKED, KNOCKED OUT
& FONDLED BY VENGEFUL BRITISH SPY GIRL GOLDIE!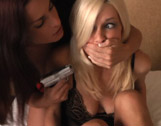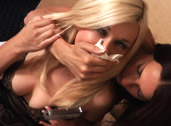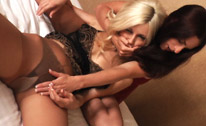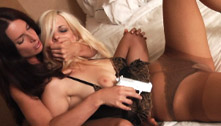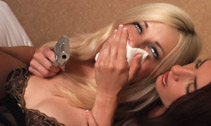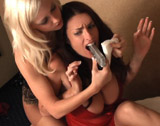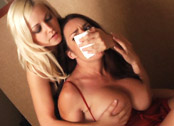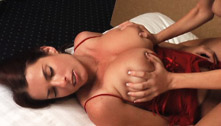 12 min. 30 sec
$9.99
MP4 Video - 220mb

This is one super hot & sexy video featuring beautiful buxom brunette Goldie & charming blonde cutie Danielle. In the first scene Danielle (in black lingerie & pantyhose) reprises her role as the kinky secret agent who uses her charming skills to lure beautiful girls into her web of perversity and sells them to a sinister agency for sexual purposes! She talks on her cellphone to her contact and tells him that she lured in some new girls from a nightclub and that she now has them drugged, gagged and ready for shipment! She assures the buyer that her girls are well drugged and that he doesn't have to worry about anything. Secret lesbian agent Goldie has been tracking the white slavers (sex slavers) since her harrowing ordeal in her debut 'spy girl' chloro scene. She sneaks up on Danielle with her gun drawn (wearing red lingerie & pantyhose) while Danielle is still talking about her drugged girls.
Suddenly Goldie clamps her hand over Danielle's mouth and puts the gun to her head! The evil blonde agent protests but is forced to hang up by the vengeful Goldie! Now Danielle is the victim and is forced to endure handgagging and fondling as Goldie tells her that she would make a good slave like the girls she's kidnapped. After struggling and "MMMMMPH"ing in the grip of her captor Danielle is chloroformed & fondled by the vengeful Goldie! Danielle is slowly put to sleep and is fondled by Goldie who continues to say kinky things to her blonde prey! Later, when Danielle wakes Goldie menaces her captive with the gun and keeps her quiet with her stern mouth grip while she makes comments about her missing agent friend Brandi and demands to know where she is. But Danielle is defiant and tells Goldie that Brandi is gone and that it's no use to search for her! She also tells Goldie that she will end up drugged and gagged just like the other girls and sold into sexual slavery!
Goldie becomes furious at Danielle's defiance so she chloroforms her again! This begins a VERY HOT battle between the 2 special agents where they chloroform each other and tease their groggy captives with kinky comments as they fondle each others' sleepy bodies! Danielle is deliciously wicked when she dominates Goldie and gets her revenge fondling her massive boobs and commenting that she will be soon be sold!
WHO WILL BE THE VICTOR OF THE SLEEPY CLOTH BATTLE?
Copyright © 2012 gaggedgirls.tv
All rights reserved.