BEAUTIFUL CHEERLEADER BRITTANY IS REPREATEDLY KNOCKED OUT, HELD CAPTIVE
& GROPED BY A PERVERSE FIEND!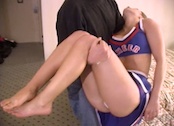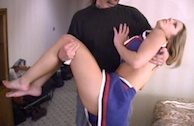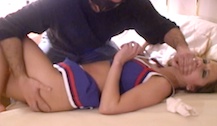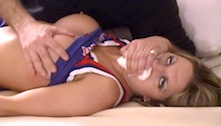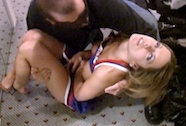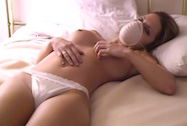 15 min. 30 sec
$11.99
MP4 Video - 335mb
Absolutely gorgeous barely legal college cheerleader Brittany (well known for her sexy eye-rolling passouts) is worried about her fellow cheerleader friend not showing up for practice. She calls around to ask the other cheeleaders about the girl but soon falls victim to the thugs who have already kidnapped her friend! Brittany is on the phone with her girlfriend when she's suddenly attacked and smothered from behind with a sleepy cloth! The gorgeous cheerleader struggles as she's mecilessly fondled but is slowly and surely put to sleep by the cloth! Once she's unconscious the drugged cheerleader is carried in the thug's arms (cradle carrying).
He carries her over to her bed and lays her down while he continues groping her lovely body. Brittany eventually wakes up but her cruel captor handgags her and torments her with perverse comments about drugging her, then plays a game of cat-and-mouse with her, continously re-capturing her and 'cloth smothering' her repeatedly. Near the end of this incredibly HOT scene Brittany ends up drugged into a deep slumber and a 'sleepy mask' is strapped over her face to keep her unconscious while the thug has his fun with her!
WHAT WILL BE THE FATE OF THE SLEEPY CHEERLEADER?
DON'T MISS THIS CLASSIC SLEEPY SCENE!
Copyright © 2012 gaggedgirls.tv
All rights reserved.