GORGEOUS ALL-NATURAL BUXOM BRUNETTE JASMINE IS
PUT TO SLEEP, KIDNAPPED, GAGGED & GROPED
BY AN OBSESSED STALKER!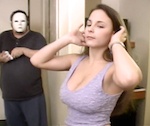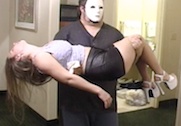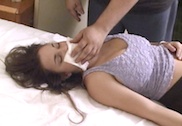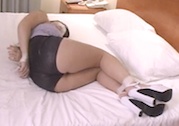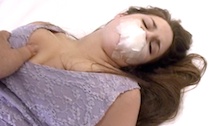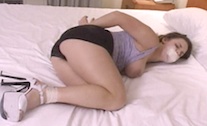 18 min.
$12.99
MP4 - 310 mb


Popular cutie Jasmine comes home to prepare for a night of partying (wearing a low cut purple top to show off her perfect all-natural breasts, short black shorts and white high heeels). When her neighbor loses control of his desires he stalks the lovely brunette intent on abducting her and making her his personal bondage slave! Poor Jasmine is unaware of the masked man soaking his cloth behind her as she talks to herself about calling her girlfriend about the party.
When the man cannot stand it any longer he strikes! The gorgeous brunette is ambushed in her home and smothered with the sleepy cloth! Her obsessed neighbor gropes her big boobies as she "MMMMPH"s beautifully and struggles in his grip! Jasmine is quietly subdued and eventually passes out in the arms of her captor!
The masked man carries his unconscious prey in his arms (cradle carrying) back to her bedroom where he lays her on her bed and binds her with surgical tape!
When Jasmine wakes up she is handgagged and fondled while the man tells her of his sinister plans! Jasmine gives a beautiful feisty flurry of muffled protesting and gag-talk throughout her perverse ordeal!
After more handgagging & fondling Jasmine's mouth is stuffed while she mumbles her disapproval and her big mouth is gagged with several strips of surgical tape!
Eventually Jasmine gets to her feet and hops all around her apartment with her big boobies bouncing all over. The man follows her around as she tries to get to the phone, then the front door, teasing her and groping her as she hops around. During her hopping exploits Jasmine's boobs are pulled out of her top and fondled as she "MMMMMPH"s defiantly at her captor! Eventually he forces her to hop back into her bedroom. He then spanks her while she struggles and she protests furiously while rolling around all over the bed. When she gets too wild he finally smothers her back to sleep!
WHAT WILL BECOME OF THE SLEEPY PARTY GIRL?
THIS IS ONE OF THE BEST JASMINE SCENES EVER!