THE SUPER SEXY CONCLUSION TO THIS DESTINED-TO-BE-CLASSIC
SPY GIRL BONDAGE SCENE!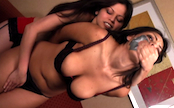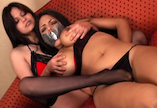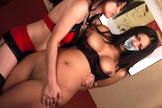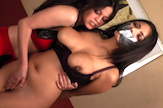 PART 2
10 min. 30 sec
$9.99
MP4 - 215 mb

Gorgeous exotic & curvy spy girl Tara continues to endure heavy groping and kinky verbal teasing from spy girl hunter Samantha in this exciting conclusion!
Poor Tara struggles and "MMMMMPH"s beautifully as she is forced to come to terms with the fact that she is now the helpless gagged sex toy for her perverted rival Samantha! Squeezing, handgagging, spanking and boob sucking Samantha handily dominates her frustrated mumbling / gag-talking prey!
Finally when Samantha is ready to transport her gagged captive into her new life of white slavery she teases her while soaking her sleepy cloth and tells her that she will be selling her that a buyer would love to have a beautiful girl like her as their slave. Tara reacts beautifully to Samantha's comments and her gorgeous face is firmly smothered with the soaked cloth! Tara slowly and dramatically passes out in a fitting finale to this destined-to-be-classic scene!
THIS IS ONE OF OUR HOTTEST BONDAGE SCENES EVER!
DON'T MISS PART 1
Copyright © 2012 gaggedgirls.tv
All rights reserved.