TARA THE SPY GIRL IS TRICKED & CAPTURED BY SPY GIRL HUNTER SAMANTHA!
THE POOR EXOTIC AGENT IS KNOCKED OUT, SUBJECTED TO BONDAGE, HUMILIATION & LOTS OF HOT GROPING
AS THE KINKY LESBIAN DOMINATES HER GORGEOUS FACE & CURVY BODY!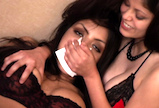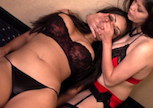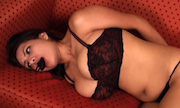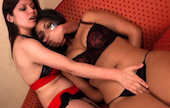 PART 1
10 min.
$9.99
MP4 - 208 mb

Gorgeous exotic buxom babe Tara returns as the eager spy girl who is constantly tricked & dominated by rival spy girls! This time Tara dares to take on cruel & kinky spy girl hunter Samantha!
Too bad for Tara that Samantha has baited her into a TRAP! The overconfident curvy agent stealthily slips into Samantha's next door hotel room (while carrying out a seperate mission) in black high heels, bra & panties and searches the room for her target! She makes a whispering comment about busting Samantha but the spy girl hunter is actually behind Tara, slowly creeping up on her!
Tara is suddenly smothered with Samantha's sleepy cloth as she is handily disarmed and groped by the lusty spy huntress! Samantha chastises the gorgeous exotic agent as she slowly subdues her! Poor Tara's muffled dismay at being foiled yet again soon gives way to sleepy moans and beautiful rolling eyes. Tara passes out in the arms of her cruel rival and is subjected to groping, handgagging and more sleepy cloth smothering as she is prepared for bondage.
Tara wakes up bound with duct tape on a sofa, her mouth stuffed with black panties! She sits up and spits out the panties but Samantha suddenly enters the scene and clamps her hand over Tara's shocked mouth! Samantha teases Tara and taunts her about having her mouth stuffed & gagged. Tara "MMMMMPH"s beautifully as she struggles helplessly and Samantha soon stuffs the panties back in her mouth!
The muffled secret agent is then dramatically gagged with several strips of duct tape! Samantha teases her prey mercilessly and gropes her body heavily throughout the scene! Tara continues her pitiful defiance mixed with visible doubts about her ability to escape her bonds! Tara's conflicting emotions make for great displays of sexual frustration!
WHAT WILL BE THE FATE OF THE GAGGED SPY GIRL?
DON'T MISS THE EXCITING CONCLUSION IN PART 2