BEAUTIFUL ASIAN YURI IS GETTING READY TOGO TO A PARTY BUT PERVERSE THUGS HAVE
OTHER PLANS FOR THE SEXY DAMSEL!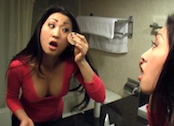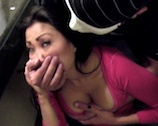 11 min. 30 sec. $9.99
(Windows Media) WMV - 279mb

Gorgeous Asian babe Yuri applies her make-up in front of her bathroom mirror as she prepares to go to a party but a masked fiend sneaks out of her shower holding a cloth soaked with a strange liquid! Yuri doesn't notice the man until it's too late! Suddenly the beautiful girl is muffled by a pad of cloth as the perverse man gropes her boobs! The man's partner shoots POV video footage of the kinky assault! Yuri "MMMMMPH"s & struggles with her attacker to no avail! The sleepy cloth slowly overpowers the Asian beauty and her eyes roll as she finally passes out!

Yuri is then thrown over the man's shoulder (OTS carrying) and carried into the next room. While she's unconscious the perverse man has fun playing with her sweet body. Slowly Yuri begins to wake up but she's too groggy to get away. Her eyes roll sleepily as she attempts to escape only to be handgagged and teased by her cruel captors!
Yuri is subjected to relentless groping, repeated sleepy cloth smothering and handgags! Her passouts are always beautiful!
WHAT WILL BE THE FATE OF THE SLEEPY ASIAN DAMSEL?
DON'T MISS PART 2
Copyright © 2012 gaggedgirls.tv
All rights reserved.