A HIGHLY REQUESTED SUPER HOT SCENE FROM OUR EARLY DAYS WITH CHRISTINA CARTER AS SUPERHEROINE AMERIGANA & KORDELIA AS POWER GIRL!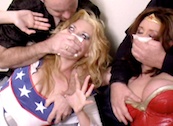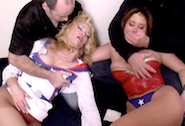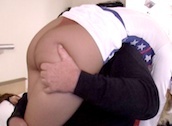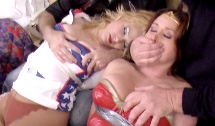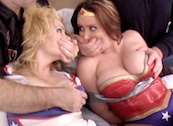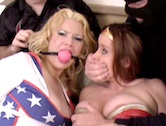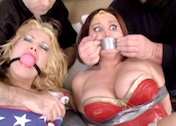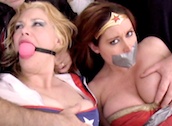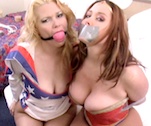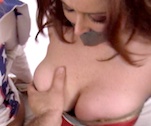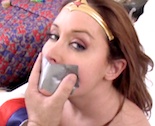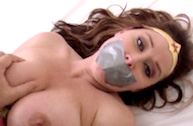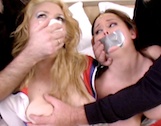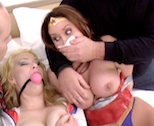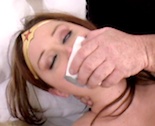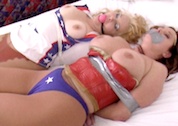 21 min.
$14.99 - MP4

Christina Carter and Kordelia are Amerigana and Star Girl! Two beautiful super heroines battling the forces of perversity in a city of cruel bondage fiends! The buxom duo battle brutal white slavers, and Amerigana battles deranged fans and cruel thugs in the latest capers from this classic series!
Amerigana and Star Girl track a band of notorious white slavers to their hidden underground complex! As the two super beauties search for the bad guys together Star Girl impetuously moves ahead of Amerigana. Suddenly a trap door opens and Amerigana falls through with a quick gasp! Star Girl doesn't see her disappear and is totally unaware that Amerigana has fallen into a trap! Amerigana drops to the floor below and into the arms of a perverted white slaver! The super amazon is immediately attacked and a chloroform cloth is clamped tightly over her face! Amerigana 'MMMPH's as her famous titanic tits are assaulted and groped intensely! She struggles to get free but the thug has the advantage of suprise and chloroform! Amerigana has already become weakened by the fumes! It isn't long before she he is slowly drugged into a groggy state and is given the 'Wonder Woman / Fausta' treatment (she is questioned by the thug). When he's finished with her he covers her mouth once more with the pad of cloth and sends the amazon beauty to sleep in a flurry of groggy moans and rolling eyes!
When Star Girl returns to the spot where Amerigana disappeared she too falls through the trapdoor and into the room below! The star caped cutie falls next to Amerigana who lays unconscious next to her, one of the thugs keeping Amerigana drugged with the chloroform pad. Star Girl tres to quickly get back to her feet but another thug clamps a chloroform pad over her beautiful face and smothers her with it, while fondling her boobs! Star Girl gives a valiant struggle but alas she too falls prey to the anaesthetic fumes! As she struggles to stay awake Star Girl tries desperately to pry the other thug's groping hands from Amerigana's face and boobs. But it's no use and the star-spangled sisters soon both become unconscious playthings for the evil fiends!
The white slavers carry each of the super beauties over the shoulder to a waiting bed and fondle them while they're knocked out. Then they tie them both up (on-screen)! When Star Girl wakes up she's handgagged and kept quiet until Amerigana wakes up. After lots of boob fondling Amerigana comes around but is very groggy. She is also handgagged and forced to watch Star Girl get tightly ballgagged! Star Girl 'MMMPH's dramatically at the indignity of being gagged and is forced to watch as Amerigana has her mouth heavily duct taped in front of her! The two super babes are then teased and tormented by the thugs and their ominous unseen 'Master' who gives them kinky orders which they easily carry out!
Amerigana and Star Girl struggle for a while in bondage, making lots of sexy protests and squirming melodramatically! They try to free each other several times to no avail and the thugs come back to tease them for being their helpless captives! Finally both super beauties are chloroformed back to sleep!

WILL THE SUPER DAMSEL DUO EVER ESCAPE FROM THEIR DIRE PERIL?
THIS IS ONE INCREDIBLY SEXY / KINKY VIDEO WITH BOTH SUPERHEROINES
GIVING GREAT STRUGGLING & PROTESTING THROUGHOUT!