SUPER HOT BONDAGE SCENE WITH A FEISTY SUPERHEROINE,
RELENTLESS GROPING, 3 SLEEPY CLOTH SMOTHERS AND LOTS OF FURIOUS & SEXY GAG-TALK!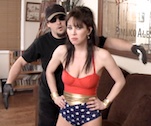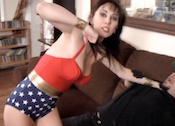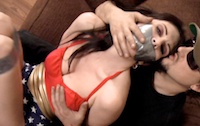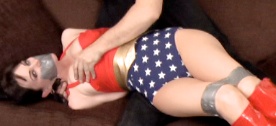 PART 1
10 min.
$8.99
MP4

Stargana's first solo adventure is revealed and it's a SUPER HOT scene for lovers of gag-talking / sexy muffled protesting LOTS of groping & sleepy cloth KOs!
The beautiful, all-natural & VERY FEISTY super heroine breaks into a white slaver's hideout in her star-spangled costume (with pantyhose and shiny boots) in a valiant effort to rescue several kidnapped superheroines, but she soon finds out that she's walked into a trap! Confident and agressive Stargana calls out to the bad guys (demanding to know where her 'bound and gagged' superheroine sisters are)! One of the thugs sneaks up behind her and clamps a sleepy cloth over her face but feisty Stargana uses her power moves to get free and is just about to deliver her finishing blow when she's distracted by another thug (POV shot)! She heads straight for the new thug ready to do battle but the other thug recovers quickly and clamps the sleepy cloth over the gorgeous superheroine's angry face! This time Stargana is overpowered, restrained and drugged into unconsciousness as her all-natural boobs are groped and her beautiful muffled protests fade!
He then carries away his super captive 'over the shoulder' (OTS carrying)! When Stargana awakens she finds that she's been bound with duct tape!
When the super beauty tries to talk tough she's firmly handgagged but continues her defiant mumbling as her boobies are hungrily groped by her captor! Soon she's smothered with the soaked cloth again to make her sleepy and compliant as she is gagged but her defiance shines through and even though she is sedated Stargana manages to make her displeasure known in the form of sexy gag-talk and defiant moans as her lovely mouth is subdued with several strips of tape!
The gagged superheroine makes lots of great sexy "MMMMMPH" sounds and gag-talks quite a bit as she squirms in the clutches of her perverted captor!
WHAT WILL BE THE FATE OF THE GAGGED TOUGH TALKING SUPERHEROINE?
DON'T MISS PART 2
Copyright © 2012 gaggedgirls.tv
All rights reserved.