CUTE CHEERLEADER SHERRY IS
KNOCKED OUT, GAGGED & GROPED!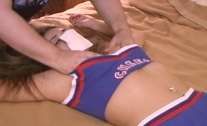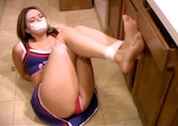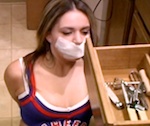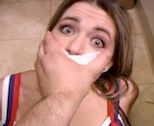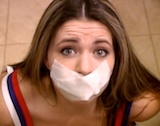 8 min. 40 sec
$6.99 - MP4

Cute brunette cheerleader Sherry is practicing her cheers for the big game when she's suddenly attacked from behind by a masked man who smothers her pretty face with his sleepy cloth! Sherry struggles and "MMMMMPH"s gorgeously as the man gropes her boobs until she passes out in his arms and is carried away 'over the shoulder' (OTS carrying) to her bed where her unconscious body is groped!
Sherry 's bondage nightmare begins when she wakes up to find that she's been bound with surgical tape! She is handgagged and fondled by the man who teases her about being so helpless. When she tries to talk her way out of bondage her sweet mouth is gagged with several strips of surgical tape! Sherry still protests quite a bit throughout the scene with lots of sexy "MMMMMPH"s!
The man lets her struggle on the floor of her kitchen for a while as he prepares for her transportation. Sherry gives a great performance squirming and "Mmmmph"ing as she tries to get a knife from the kitchen drawer with her bare feet!
Of course this gagged cheerleader isn't going anywhere! The man returns in time to prevent her escape and Sherry's cute gagged moans and wide-eyed distress in a sexy POV shot beautifully convey her fear and dismay.

WILL THE GAGGED CHEERLEADER MAKE IT TO THE BIG GAME
OR WILL SHE FOREVER BE THE BONDAGE SLAVE OF A MYSTERIOUS MAN?
Copyright © 2012 gaggedgirls.tv
All rights reserved.