CUTE & FEISTY GIRL DETECTIVE JENNI LEE TRACKS WHITE SLAVERY / SEX SLAVERY THUGS
BUT SOON ENDS UP A SLEEPY CAPTIVE HERSELF IN THIS VERY HOT SCENE!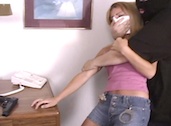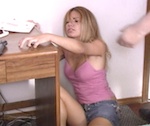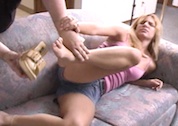 13 min. $9.99
MP4

PART 1

Jenni is a beautiful fesity undercover agent with a grudge against the 'girl grabbers' of the underworld! The smart but impetuous girl tracks a white slaver to his hideout and draws her trusty gun before approaching the building. She slowly sneaks inside and looks for the missing girls. She finds and smells the contents of a strange bottle and says the name of the substance in disgust! She then stumbles upon an invoice for the sale of several abducted girls! She reads the descriptions of the sales aloud and becomes very angry! She decides to call in her discovery but makes the mistake of putting her gun on the table while using the phone and is suddenly smothered from behind by a white slaver's sleepy cloth before she can reveal her whereabouts!
Poor detective Jenni can't reach her gun only a few feet away and the effects of the cloth soon sap her strength and willpower! The man slowly dominates his struggling captive while groping her lovely boobies and eventually Jenni loses the battle and is forced give in to the overwhelming urge to sleep. Jenni's passouts are always beautiful and she is in fine form here.
The unconscious beauty is then carried over the shoulder to the back bedroom and her sleepy fetish nightmare begins! Jenni is subjected to a cruel cat-and-mouse game as the kidnapper keeps her drugged & sleepy (often handgagging her) and toys with her by allowing her to try and escape, only to catch her, handgag her and smother her again with his cloth before she can get away!
WHAT WILL BECOME OF THE FEISTY BUT SLEEPY GIRL DETECTIVE?
DON'T MISS PART 2
Copyright © 2012 gaggedgirls.tv
All rights reserved.