SWEET PETITE 'BARELY LEGAL' JULIE ANNE
WAKES UP TO A BONDAGE NIGHTMARE!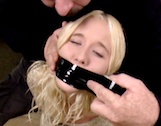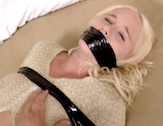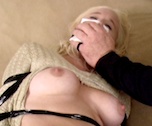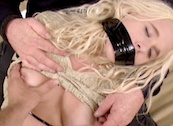 11 min.
$8.99 - MP4

Blonde super cutie Julie Anne has been kidnapped! The sweet petite 'barely legal' model wakes up in the clutches of 2 perverted men who delight in tormenting her sweet body and pretty face! The photography shoot was a trap and now she's helpless to prevent the roaming hands of the men from having their way with her charms! One of the men gropes and handgags her from behind while his partner shoots POV video footage of her captivity. Soon the protesting blonde is gagged with a roll of black vinyl tape which is wound around her blonde head several times to keep her mouth firmly bound. Julie Anne protests dramatically throughout the scene as she's relentlessly groped and occassionally teased with kinky comments about her being so helpless.

At one point the frustrated blonde is calmed down with a nice dose from the sleepy cloth but even in her very sleepy state she manages small 'mmmmmph's of defiance. Julie Anne's emotions range from anger bout being rendered helpless to dismay at the perilous nature of her present predicament. She tries to act tough but her mind slowly crumbles and when the men decide to put her back to sleep she reacts with fear at the mention of the sleepy cloth and the strange liquid that will once again dominate her will!
The men enjoy the blonde's fear and savor the luscious sleepy cloth domination of her gagged mouth! Some nice POV groping follows.
WHAT WILL BE THE FATE OF THE KIDNAPPED BLONDE?
Copyright © 2012 gaggedgirls.tv
All rights reserved.