SUPER CUTE 'BARELY LEGAL' TYLER SCOT IS A CAPTIVE SAILOR GIRL KNOCKED OUT, GAGGED, BOUND & GROPED!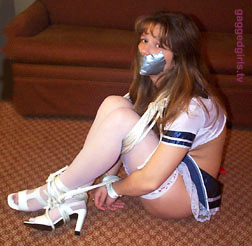 20 min.
$14.99 - MP4

This is a much requested scene from one of our earliest shoots with sweet & innocent fan favorite Tyler Scot. Poor Tyler is being stalked by a pervy guy who is obsessed with defiling her innocence with bondage! The cute and vulnerable college schoolgirl sleeps on her sofa after a long day of school, completely unaware of the masked stalker in her house!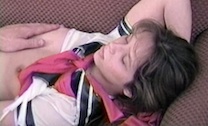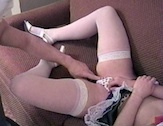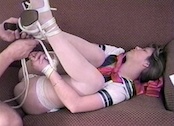 The perverse man gropes sweet Tyler as she sleeps but his roving hands eventually wake her up! Tyler is shocked to see the bad man playing with her body and she tries to resist him but he smothers her with a sleepy cloth! The squirming "MMMMMPH"ing schoolgirl is slowly put to sleep in a gorgeous display of Tyler's sexy passout style.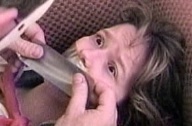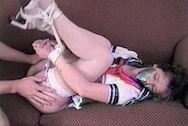 Tyler is then tied up while she's unconscious & later wakes up to see her new predicament! The shocked cutie is quieted with several strips of duct tape that are lovingly pressed over her mouth as she "MMMMMPH"s in dismay! Tyler is so confused all she can do is moan in fear and confusion as this strange man runs his hands over her body, & tickles her toes, then sucks on them!
The man has fun with his sweet little captive as Tyler ponders her fate through muffled sighs and gagged noises of helpless frustration.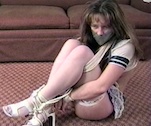 The man then puts Tyler into a restricitng 'ball tie' for a while. Later he rewards her submissive nature by loosening her ball tie but keeps her gagged & bound in a relatively restrictive state where she has no hope of escape!
WHAT WILL BE THE FATE OF THE GAGGED SAILOR GIRL?
Copyright © 2012 gaggedgirls.tv
All rights reserved.